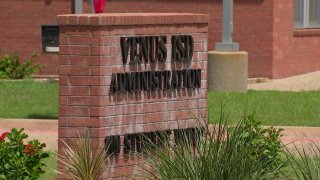 Venus ISD campuses will close until after Labor Day due to a staffing shortage caused by COVID-19 the district says.
The district held school on Friday, but will not conduct classes again until Tuesday, Sept. 7. Friday, Sept. 3 and Monday, Sept. 6 were already scheduled days off for Labor Day weekend.
"Venus ISD has been experiencing an unusually low attendance rate due to positive COVID-19 tests," the district said in a statement. "Additionally, COVID-19 has made it difficult for us to staff our campuses at a level that we feel appropriately provides our students with the high-quality instruction that they deserve."
The district said it will make up the lost days later in the school year and will publish a new calendar as soon as it's available.
Venus is in Johnson County, southwest of Midlothian.