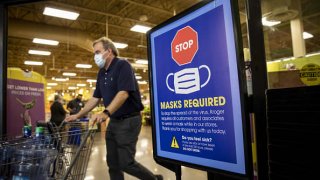 The Texas Department of State Health Services reports more than 19,000 new confirmed and probable cases of COVID-19 on Wednesday along with increases in the positivity index and the number of people hospitalized with the virus.
According to data released by the DSHS, there were 15,558 new confirmed cases Wednesday and another 3,445 probable cases for a total of 19,003 cases of the virus.
The DSHS also reported 7,685 people hospitalized statewide with the virus, an increase of 380 patients since Tuesday and the highest number of hospitalized COVID-19 patients since Feb. 18.
Chris Van Deusen, the DSHS spokesman, said in a video conference that the rolling seven-day average of new COVID-19 cases has soared by 92% from last week, while hospitalizations rose by 49% and fatalities grew by 15%.
W. Stephen Love, president and CEO of the Dallas-Fort Worth Hospital Council said there were 1,922 COVID-19 patients in area hospitals on Wednesday.
"We are sorry to see this number now exceed 1,900 COVID-19 hospitalized patients. This represents 12.81% of bed capacity and 30.96% of adult ICU patients which means over a quarter of our adult ICU patients have COVID-19," Love said. "As a point of reference, we had 398 COVID-19 patients in the hospitals on July 4 so as you can tell, our hospitalizations have increased significantly in 30 days."
The state health department also reported 60 more deaths on Wednesday. A month ago on July 4 the 7-day rolling average for deaths was 19, that number had grown to 44 per day today.
Dr. Jennifer Shuford, the state epidemiologist for the U.S. Centers for Disease Control and Prevention, estimates that more than 80% of all new COVID-19 cases involve the delta variant.
"And our preliminary data suggests that over 75% of COVID-19 cases in Texas are now due to the delta variant," Shuford said.
Experts warn that hospitalizations and deaths are lagging indicators of the severity of the pandemic and that both are likely to continue increasing for some time after cases.
The state's molecular positivity index, at one time a barometer for Republican Gov. Greg Abbott for the danger associated with the spread of the virus in the state, climbed to 17.71% on Wednesday. The last time the positivity index was that high was on Jan. 13. The all-time high for the molecular positivity index is 20.98% which was reached during the winter peak of the third wave on Jan. 4.
The surge in new cases, hospitalizations, and deaths comes as Abbott stands pat on his position that Texans know what to do to stop the spread of COVID-19 and that no further intervention is necessary on his part. Abbott has said repeatedly for several weeks now that masking is a personal responsibility and that people should get the vaccine if they want one.
As recently as today, Abbott said while addressing a conference in Dallas, "going forward, there will not be any government-imposed shutdowns or mask mandates. Everyone already knows what to do. Everyone can voluntarily implement the mandates that are safest for them, for their families, and for their businesses."
Medical experts, meanwhile, continue to warn that the vast majority of new COVID-19 cases and hospitalizations are among those who have not yet been vaccinated against the virus.
"Vaccinations are absolutely helping protect people and the unvaccinated are very much at risk with the increase in the delta variant, so wearing masks is also another effective tool against COVID-19," Love said.
Love recommended three things we can all do to prevent the further spread of the delta variant:
If not vaccinated, please talk to a trusted source, do your own scientific research and get vaccinated as soon as possible. Do it for the children under 12 (if for no other reason) as they can't get vaccinated and need us to help protect them.
Wear a mask if you are vaccinated or not vaccinated. There was a town in Massachusetts where many vaccinated people contracted the delta variant but none died thanks to the vaccines.
Conduct virtual meetings, instead of in-person, for at least the short term rather than hosting potential spreader events.