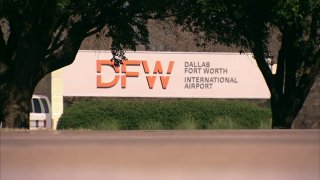 A college student from Wichita Falls who tested positive for COVID-19 traveled through Dallas-Fort Worth International Airport on Thursday, the city says.
The student, who is in their 20s and goes to school out of state, landed at DFW Airport Thursday, then took a connecting flight to Wichita Falls, the city wrote in a Facebook post.
The student started to feel mild symptoms the day before the flight, took a coronavirus test at a Wichita Fallas drive-up facility on Saturday and has been isolated at home since then.
The Wichita County Public Health District asked anyone on American Airlines flight 3612 from Dallas-Fort Worth to Wichita Fallas on March 19 to contact them.
Coronavirus Pandemic
Full coverage of the COVID-19 outbreak and how it impacts you
Wichita Fall has reported eight cases of the new coronavirus.