Dallas Mayor Eric Johnson asked residents not to panic Friday, but urged them to take the threat of coronavirus seriously following Thursday's declaration of a public health emergency.
The city declaration banned large public gatherings in an effort to reduce person to person contact and the spread of the illness.
"This proclamation guarantees that your city leaders will have authority to take quick, responsible and decisive actions," Johnson said. "There's absolutely no reason to panic. We have a plan to minimize and to slow down the spread of this virus."
Friday afternoon the city added libraries, recreation and cultural centers to the list of closures through at least March 20th.
Johnson said a special Dallas City Council meeting will be held on Wednesday March 18th to consider the likely extension of the initial disaster declaration.
Coronavirus Pandemic
Full coverage of the COVID-19 outbreak and how it impacts you
Dallas officials are also reviewing how to provide city services if a substantial portion of the work force falls ill or requires quarantine because of Coronavirus exposure. Each city department has been asked to consider service delivery with 10%, 20% and even 40% fewer workers.
"The plans are in place, very robust plans, being reviewed and vetted by management," said Dallas Emergency Management Director Rocky Vaz.
National Black Police Association Dallas Chapter President Sheldon Smith said management has been slow to share information with officers about those plans and about clean up activity that many officers saw at Police Headquarters on Wednesday.
He shared a photo of the clean up in a detective office area.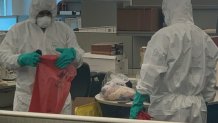 "Our employees saw clean up crews coming in with haz mat suits. It was quite alarming to people inside the building," Smith said. "Some have family that are in critical conditions that can't be around somebody that's sick."
Two days later on Friday, Dallas Police Cheif U. Renee Hall issued a statement to officers that acknowledged the clean up. The statement said four work stations and a break room were disinfected.
"This was done as a precaution after learning that one of our detectives was at home with flu like symptoms., " Hall's memo said.
Smith said the Chief's statement was issued after questions about the clean up were raised by NBC5 at Mayor Johnson's 10am News conference Friday.
"I think we've done some of the right things but the communication part is where we lack," Smith said. " Public safety personnel, we have to be extra vigilant to make sure we take care of ourselves."
Johnson issued the Dallas proclamation late Thursday to ban large public gatherings in the city of 1.3 million people.
"We must act now to slow the spread," Johnson said Friday. "We know that taking precautions immediately will save lives, especially the lives of our most vulnerable."
"Dallas is a strong and resilient city," Johnson said. "We will get through this."
He called on Dallasites to practice social distancing, get their flu shots and to practice better personal hygiene in order to protect themselves and others.
The new coronavirus -- which was declared a pandemic by the World Health Organization on Wednesday -- causes only mild or moderate symptoms for most people. But it can cause more severe illness including pneumonia in older adults and people with existing health problems. The vast majority of people recover from the new virus, which causes COVID-19, within weeks.
Dallas County Judge Clay Jenkins declared a local disaster for public health emergency Thursday night and announced five additional cases of coronavirus in the county, bringing the total number of confirmed cases in the county to eight. The declaration limits events of 500 or more people.
The five latest confirmed cases of coronavirus in Dallas County include a woman in her 70s, a man in his 40s, a man in his 50s, a man in his 60s and a woman in her 60s.
Two of those people are currently hospitalized. Three others are isolating at home. One is a resident of Balch Springs and the others are residents of the City of Dallas.
A 9th Dallas County presumptive case announced Friday evening is a person in their 80's with a history of out of state travel. The person is not related to previous cases and is being treated at an area hospital.
Johnson said that the city manager ordered public, private and commercial laboratories to report their numbers of coronavirus to the city of Dallas every day.
Jenkins said one of the new cases had no previous travel, which indicates the virus is spreading in the community.
"We have community spread," said Jenkins. "Now it is incumbent on all of us... to do everything that we can to keep that from accelerating. If that gets into our nursing homes, our senior centers and gets to our older than 60 population it will be deadly and we've got to do everything we can to keep that from happening."
For all other gatherings, Jenkins and the Dallas County Health and Human Services "strongly recommends following the social distancing protocols attached to this Order, including canceling, rescheduling, or not attending events with more than 250 persons." And high-risk individuals, as defined by the Centers for Disease Control and Prevention (CDC) are being urged to cancel, reschedule, or not attend events that will have or will likely have 10 or more people.
Jenkins said smaller gatherings of 250 people should be canceled or rescheduled. He said schools, office towers, airports and movie theaters are exempt
"While we are disheartened by likely community spread, this was expected given what we have seen in other communities around the country and the world. I urge all residents to continue assessing their personal risk, and individual mitigation activities they can do to reduce their own risk. Personal actions around basic hygiene and social distancing are some of our best public health tools," added DCHHS Director, Dr. Philip Huang.
How to Avoid COVID-19 Infection:
The best way to prevent infection is to take precautions to avoid exposure to this virus, which are similar to the precautions you take to avoid the flu. CDC always recommends these everyday actions to help prevent the spread of respiratory viruses, including:
Wash your hands often with soap and water for at least 20 seconds. If soap and water are not available, use an alcohol-based hand sanitizer.
Avoid touching your eyes, nose, and mouth with unwashed hands.
Avoid close contact with people who are sick.
Stay home when you are sick.
Cover your cough or sneeze with a tissue, then throw the tissue in the trash.
Clean and disinfect frequently touched objects and surfaces.
*Information shared from the Office of Texas Gov. Greg Abbott