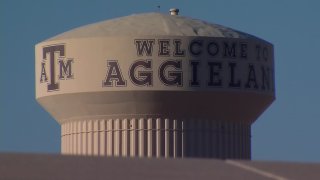 Production of two COVID-19 vaccine candidates is underway in College Station, the Texas A&M University System announced Monday.
The Texas A&M System and Fujifilm Diosynth Biotechnologies, which is a subcontractor of the university system's Center for Innovation in Advanced Development and Manufacturing, will have support from the U.S. government through Operation Warp Speed, according to a news release.
Fujifilm Diosynth Biotechnologies will produce Novavax's vaccine candidate drug, NVX‑CoV2373, which began Phase 3 testing in the U.S. and Mexico in late December. In the third phase of clinical development of a vaccine, the drug is administered to thousands of people to be tested for safety and efficacy, according to the CDC.
Read more from NBC 5's media partner The Dallas Morning News.
Copyright The Dallas Morning News