The owner of a North Dallas salon says she's in a fight to save her business and will continue to defy local and state COVID-19 orders to remain closed for now.
Dallas County Judge Clay Jenkins' office sent a 'cease and desist' letter to Shelley Luther on Friday afternoon after Salon A La Mode opened for business Friday morning, she confirmed to NBC 5.
She also confirms she was cited by the city of Dallas for opening despite local orders.
About a dozen or more people gathered at the salon along Belt Line Road to support Luther's decision to reopen, many were armed.
"This is in support of anyone who feels it's essential to have your rights to open up your business," said Luther to reporters Friday morning.
Luther followed through on her plan to reopen after being shuttered for a month due to COVID-19 orders handed down by the city, county, and state.
Local
The latest news from around North Texas.
"We have the constitutional right to be able to work to provide for our families, to pay our mortgages and I don't feel it's right to close us down for this long period of time," said Luther in an interview with NBC 5 earlier this week.
Starting Friday, Gov. Greg Abbott scaled back on state restrictions and began allowing businesses to conduct "retail to-go" service. However, the salon's re-opening conflicts with county and state orders in place, ordering hair salons, nail salons, and barbershops to remain closed to in-person service.
Luther introduced two women who opted to work, one doing haircuts only and the other doing nails.
The opening attracted people in support and others calling out concerns of the impossibility to remain six feet apart in accordance to social distancing guidelines still in effect within the state.
Dallas police officers on the scene said they were called out because of the crowd concerns. Once on scene Friday morning, police ordered everyone to practice safe, social distancing as much as possible.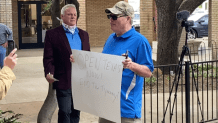 "I understand that you guys have a job to do," Luther told officers on Friday. "I don't fault you for that. We appreciate everything, we're on your side obviously. You guys do a great job and we're going to comply. And do everything you want us to do, except to close."
Luther said hair stations inside the salon have been set up six feet apart. Everyone must wear a mask before entering the salon. Stylists must change gloves after each client visit and wash their hands frequently.
Joe Sexton and his wife drove in from Fort Worth to support her business.
"Tired of sitting there talking about we need to do something, time to do something," he said after getting a hair cut inside by a stylist. "It was totally safe. Took my temperature. She did a great job."
Luther said she is providing clients with hand-made masks and is asking anyone feeling ill or experiencing any COVID-19 symptoms to stay at home.
Luther explained she has three jobs, all of which are closed due to COVID-19 orders and has been unable to secure unemployment or SBA loans.
"They're already talking about the virus coming back out in the winter and I don't want this happening again. I want them to know we have rights," she said. "If you cannot afford to pay us and feed our family because the system is so backlogged then you have to let us work. You have to."
The Texas Department of Licensing and Regulation (TDLR) tells NBC 5 if the department receives a complaint, it will be investigated. Violators could face fines of $1,000 per violation and jail time.
Judge Clay Jenkins declined to comment about this situation.
Luther tells NBC 5 the citation she received from the city does not state how much the fine is for.
Luther said she also plans to open for business Saturday morning, despite the 'cease and desist' letter and citation.