As Oxford Grand McKinney Assisted Living and Memory Care prepared for more than 60 of its residents and staff members to receive the COVID-19 vaccine Sunday, Executive Director Jeannette Juett said it was important to make the occasion one they wouldn't forget.
"For us, it was a celebration. You know, 2020 was such a hard year for our senior population, especially. So, for us, this is like the first step to what we could control to making this pandemic end," said Juett. "So we wanted to celebrate that. We wanted our residents and our staff to feel excited about this and to move forward in 2021 with a new beginning."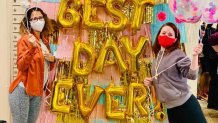 If you would like to register to receive the COVID-19 vaccination in Collin County, click here for more information and to register.
Surrounded by streamers and balloons, 60 or so residents and staff members got their shots one by one before enjoying pizza, a champagne toast and a chance to let out nine months of pent up frustrations on a virus themed pinata.
Though masked, it was impossible not to see their joy.
"It was the best day ever. It just felt like we've got this. We're going to get this. We're going to fix it. We're going to get out of here. We're going to have parties, like real parties again. We're going to have our families back in here. It just felt so good. We were crying tears of joy to be honest because we've been waiting so long for this vaccine," said Juett.
Walgreens will return to Oxford Grand McKinney in three weeks to provide the second vaccine for those who received the first and a first for those who haven't.
Local
The latest news from around North Texas.
---
*Map locations are approximate, central locations for the city and are not meant to indicate where actual infected people live.
---