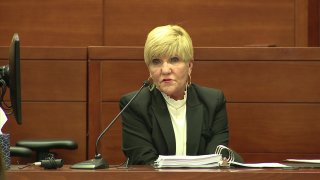 Fort Worth Mayor Betsy Price has tested positive for COVID-19.
Price's office confirmed her diagnosis just hours after tweeting the mayor's husband tested positive for the virus.
Price, 71, has kept up a busy schedule during the pandemic and was known to always wear a mask when she was around other people.
In a statement Wednesday afternoon, Price said: "Unfortunately, like so many of our loved ones, friends, and neighbors, my husband and I have tested positive for COVID-19."
In her statement, Price said she and her husband are exhibiting only mild symptoms and that they are closely monitoring their health.
Price then reminded others to not forget to remain vigilant and to "prioritize the health and safety of our community by wearing a mask and social distancing" as we head into the Thanksgiving holiday.
"We appreciate everyone's prayers for a speedy recovery," Price said.
The Tarrant County Public Health Department also confirmed Wednesday another 2,112 cases of COVID-19 in the county, including another 832 new infections in Fort Worth.
Price is an avid bicyclist. She was elected in 2011 after serving as Tarrant County Tax Assessor-Collector and is in her fifth two-year term, making her the longest-serving mayor in Fort Worth's history.