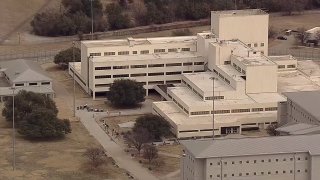 A pregnant inmate at Federal Medical Center Carswell who had COVID-19 and gave birth by cesarean section while attached to a ventilator died Tuesday at a Fort Worth hospital.
Andrea Circle Bear, 30, was taken to a Fort Worth hospital March 31 after complaining of fever, dry cough and other symptoms, according to a statement from the Bureau of Prisons.
She later tested positive for coronavirus.
She was placed on a ventilator and doctors performed an emergency C-section for her and her baby's safety, sources told NBC DFW earlier this month.
Local
The latest news from around North Texas.
Circle Bear arrived at FMC Carswell on March 20 and was serving a 26-month sentence for a drug conviction in South Dakota.
FMC Carswell houses 1,600 women offenders with medical needs.
Circle Bear had a pre-existing medical condition which placed her at greater risk for COVID-19, the BOP said in a statement.
The statement did not mention the baby's condition.
The BOP also did not name the hospital but NBC DFW reported it was John Peter Smith Hospital.
Marissa Gonzales, a spokeswoman for Texas Child Protective Services, said she could find no record of the baby or the mother.