Tarrant County on Tuesday opened the third major COVID-19 vaccination center at the Hurst Convention Center.
It will serve about 2,000 people a day. People must make a reservation through the county's website.
Retired teacher Kandis Crumpler was among the first to get the shot.
"It was pretty easy," she said.'
Hurst Mayor Henry Wilson said he's proud to share his city's convention center for the project and happy with how quickly it came together.
"This center was put in place in less than a week," Wilson said.
He just got his shot too.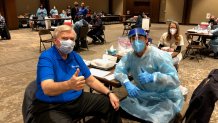 "Everything went real smooth," he said. "I was in and out in 20 minutes, and that included 15 minutes sitting in the chair after the shot. And luckily my arm didn't fall off."
Local
The latest news from around North Texas.
Tarrant County's public health department is organizing the center with help from area cities and fire departments.
The center will remain open at least the end of April.
Want to Get on a Vaccine Waitlist?
County health departments have launched waitlists for adults 16 years old and over.
You can register to recieve the vaccination in Collin, Dallas, Denton and Tarrant counties. Links are below:
Waitlist Links: Collin - Search Waitlist | Dallas | Denton | Tarrant
You do not need to be a resident of the county to register for a COVID-19 vaccine in that county -- registration is open to anyone in Texas. For those without internet access, Tarrant County is also taking registrations by phone at 817-248-6299. In Dallas County, call the DCHHS vaccine hotline at 1-855-IMMUNE9 (1-855-466-8639). In Denton County, call 940-349-2585.
For a more detailed breakdown of who is included in each priority group in Texas, see this page from the Texas DSHS.
When the county first started giving vaccinations last month, there were long lines -- partly because many people showed up without a reservation.
But county officials say they've learned to turn those people away to streamline the process and reduce wait times for those who signed up.
County leaders say the system of giving mass vaccinations is still a work in progress and will only improve over time.
"Hopefully we'll all get well, get inoculated," the mayor said. "We'll get back to normal and this is going to be a wonderful summer where we can go back to the swimming pools, fireworks displays, and all enjoy the quality of life that we want to have."
The other vaccination centers are located at the Tarrant County Resource Connection and the Arlington Expo Center. Texas Health Resources has also recently started to offer a large number of shots at its clinics.
---
*Map locations are approximate, central locations for the city and are not meant to indicate where actual infected people live.
---