Gov. Greg Abbott says the next phase of the "safe and strategic" opening of Texas will resume this week, including the immediate opening of child care facilities and several other businesses while bars and breweries will come at the end of the week.
The governor said Monday that COVID-19 is obviously still present and infecting people and that it's the goal of the state to find a way to coexist with the virus as safely as possible, and that includes continuing the safe practices many people have already adopted.
"Today, tomorrow, and every day going forward is one step closer to medical discoveries that can treat and protect people from COVID-19—but until that day comes, our focus is keeping Texans safe while restoring their ability to get back to work, open their businesses, pay their bills, and put food on their tables," said Abbott. "By continuing to use safe practices, we are slowing the spread of COVID-19 and protecting our most vulnerable. Now more than ever, we need to work together as one Texas. I ask all Texans to continue heeding the guidance of our state and federal medical experts and do their part to protect public health. If we all unite in our resolve, we will overcome this challenge."
Abbott reminded people that "safe practices save lives" and that in order to continue to protect the most vulnerable Texans, those over the age of 65 who have other health conditions, everyone must continue to keep up social distancing practices, wash hands frequently and wear a face covering when appropriate.
Opening May 18
Meanwhile, the state's businesses will be allowed to continue opening under the governor's Open Texas plan. On Monday gyms, non-essential manufacturing and other facilities were allowed to resume operations under 25% occupancy.
Child care services are also now allowed to resume operations effective immediately, Abbott said, along with massage and beauty services and office-based employers with staff working in the office up to the greater of 10 people or 25% of the total office workforce provided those people are able to maintain a distance of six feet between each other. Checklists for those businesses and their customers can be found below.
Opening May 22
On Friday, bars and a number of other businesses yet to reopen will be allowed to open their doors, provided they do not exceed 25% occupancy. The governor said restaurants that opened in the previous phase will be allowed to expand capacity from 25% to 50%. Guidance for businesses and patrons can be found below.
Abbott's Open Texas plan even created a handbook for patrons to use before they go to a bar. Highlights of the document include self-screening guidelines, reminding people to practice good hygiene and to maintain separation from others, when feasible. Patrons are encouraged to wear a facial covering when not at their table and to carry hand sanitizer. More details can be read below.
As mentioned in previous reports, outdoor seating at restaurants and bars is not held to the same occupancy limitation provided there is sufficient room to allow patrons to keep six feet between one another.
Opening May 31
On May 31, day and overnight youth camps, sports camps and sports leagues may resume operations. Parents are allowed to watch those events provided they observe social/physical distancing.
Professional sports will also be allowed to resume operations on May 31, though without in-person spectators. Earlier this month Abbott announced a race would take place at Texas Motor Speedway June 6, without spectators, and the PGA has said the Charles Schwab Challenge at Colonial Country Club will be played June 11-14. The AT&T Byron Nelson tournament, which was scheduled for May 10 at Dallas' Trinity Forest Golf Club, has been canceled and will resume in 2021 at TPC Craig Ranch in McKinney.
So far, neither the Texas Rangers nor Major League Baseball has not said when the 2020 baseball season would get underway.
Opening June 1
Abbott also said public schools in Texas have the option to provide in-person summer school, "so long as they follow social distancing practices and health protocols laid out by DSHS." Summer school classes may begin as soon as June 1.
Abbott also presented information on the state's hospitalization and positivity rates -- two metrics the governor and his team of medical experts have used to inform the state's ongoing plan to safely and strategically open. Details on the Hospitalizations Chart and Positivity Rate charts can be found below.
On Monday, he said on Sunday the state saw the lowest number of hospitalizations since April 21.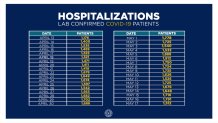 Certain counties experiencing surges in COVID-19 cases will have their beginning date of Phase II delayed until May 29. These counties include El Paso, Randall, Potter, Moore, and Deaf Smith. The governor's office said, "Surge Response Teams are actively working in these areas to increase testing, maintain hospital capacity, and ensure that COVID-19 is contained and mitigated."
Editor's note: It was mentioned in this article that concert halls were also scheduled to reopen, and those are not yet on the list of venues to reopen for business. We regret the error.