Methodist Dallas Medical Center is one of the first hospitals in Texas to receive shipments of Pfizer's COVID-19 vaccine.
The first vaccinations began at 10:10 a.m. after a UPS truck delivered the first shipment Monday morning, Methodist Dallas chief executive officer Jim Scoggin said.
"To see that UPS truck back up with that lifesaving vaccine that we will begin administrating certainly within the 30 minutes so -- the very minimum it takes for the vaccine to thaw -- goes beyond description and is really an emotional experience," Scoggin told reporters outside the hospital's loading dock.
State health officials said 19,500 doses would be distributed among four sites in Texas Monday, with 75,075 more doses going to 19 additional sites Tuesday.
The other hospitals in the state that will receive shipments Monday are Wellness 360 (UTHealth San Antonio), UTHealth Austin Dell Medical School and MD Anderson Cancer Center in Houston, according to the Texas Department of State Health Services.
Pam Stoyanoff, Methodist Dallas president and chief operating officer, said 120 of the hospital's frontline workers would be vaccinated Monday with additional groups of staffers being vaccinated in the coming days. The hospital received 5,850 doses of the vaccine Monday, which is about half of the total number of staffers they hope to vaccinate by Christmas, she said.
"It brings hope to us. We're the frontline," ICU nurse Jennifer Allen said. "It brings hope to the families that I've seen devastated by this."
Eligible frontline workers spread out in an auditorium to wait for their vaccine application.
"It's thrilling. I'm excited," ER nurse Diana Alonzo said. "Light at the end of the tunnel."
The first vaccine went to Teresa Mata, an environmental services worker who cleans up the emergency room at Methodist Dallas. She is among the unsung heroes of the pandemic.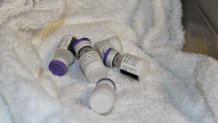 "I feel good," Mata said. "I want to take the risk because I am diabetic for 13 years, so I work in this hospital, I love my job. But I want to protect all persons and I want to protect my family and I want to protect myself."
ER and COVID-unit nurses who voluntarily received the vaccine, also want to ease fears among some people in the minority community surrounding the shot.
"I wasn't scared at all," COVID-unit nurse Vanessa Mongare said. "I really wanted to be part of this and get the vaccine."
"I think a lot of the fears is pretty much of not knowing," Alonzo said. "Taking the first step in education yourself about it would definitely get rid of those fears, as I did."
Next after Methodist Dallas? Parkland Memorial Hospital and UT Southwestern in Dallas and Texas Health Resources in Fort Worth are among the 19 hospitals slated to receive shipments Tuesday.
Initial doses will go almost entirely to frontline health care workers, Dallas County Health and Human Services Director Dr. Philip Huang said.
"Those other priority groups, including the long-term care facilities, that's going to take a couple of weeks to get all of these covered," he said.
While the war on COVID-19 is not yet won, these hospital heroes feel better equipped in the fight.
"I feel fine," ICU physician Dr. Zachary Dreyfuss said. "I just want to get back out there and get back into the trenches."
Each employee was monitored for at least 15 minutes for any potential side effects of the vaccine.
Huang said the vaccine's arrival was a "light at the end of the tunnel," but with cases of COVID-19 rising across North Texas he urged people to continue to wear a mask and avoid gatherings.
"Absolutely need to reinforce that we can't relax now, it is going to take several months before we get that coverage with the vaccine that is going to protect everyone," Huang said.
The timeline for when the vaccine would be widely available to the general public remained unclear Sunday and will likely be sometime between late spring and fall 2021, Huang said.
In Tarrant County, government and health officials were also preparing for their first doses and urged people to continue social distancing.
"If you are out there, please don't relax, this is not the time for us to lighten up on wearing the masks or doing the things we have talked about before," Tarrant County Judge Glen Whitley said.
The remaining 16 Texas hospitals scheduled to receive Pfizer's COVID-19 Tuesday include:
Texas Tech University Health Science Center in Amarillo
Christus Spohn Health System Shoreline in Corpus Christi
Doctors Hospital at Renaissance in Edinburg
UT Health RGV in Edinburg
El Paso University Medical Center
University of Texas Medical Branch Hospital in Galveston
Texas Children's Hospital in Houston
LBJ Hospital in Houston
CHI St. Luke's Health in Houston
Memorial Hermann Texas Medical Center in Houston
Houston Methodist Hospital
Ben Taub General Hospital in Houston
Covenant Medical Center in Lubbock
Shannon Pharmacy in San Angelo
Baylor Scott & White Medical Center in Temple
UT Health Science Center in Tyler
The remaining 86 sites receiving vaccinations for the first week of distribution are expected to receive their shipments later in the week, state health officials said. Click here to read the full list.
NBC 5's Larry Collins and Brian Roth contributed to this report.