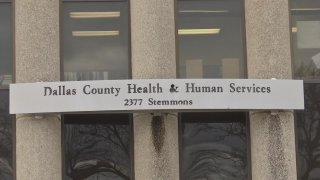 Dallas County public health officials say two more people have died and 36 more people have been infected with COVID-19, bringing the county's total number of cases so far to 131.
One of the people who died was a Dallas resident in his 80s. He had been critically ill in an area of the hospital, and did not have any high-risk chronic health conditions, the health department said.
The second death, announced by Dallas County Judge Clay Jenkins during a Sunday evening news conference, was a person in their 60s.
More than 40 percent of patients who have been hospitalized are older than 60, according to the department.
Coronavirus Pandemic
Full coverage of the COVID-19 outbreak and how it impacts you
"My thoughts and prayers are with this family and with all of the persons who have been suffering from COVID-19," Dallas County Judge Clay Jenkins said in a written statement. "Dallas County will do everything in their power to #flattenthecurve and give you and your family their best chance to stay safe."
County health officials also did not specify whether the latest group of patients were infected locally or while traveling, but said Saturday that 40 percent of cases have no history of recent travel outside the state or no known close contact with a confirmed case, indicating "community transmission locally."
As of this writing, there are more than 200 confirmed cases of COVID-19 in North Texas; four people have died.
---
Coronavirus Cases in Texas
Locations on the map are approximate county locations and are not intended to identify where any infected people live.
Case data was pulled from a variety of sources including county health departments and the Texas Department of State Health Services.
---