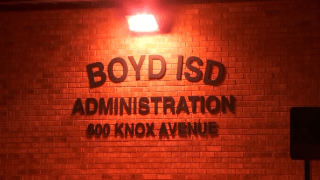 Boyd ISD in Wise County is canceling classes through MLK Day due to an increase in COVID-19 cases, the district says.
Superintendent Dr. Tamara Vardy said Tuesday a significant increase in cases forced the district's decision and that schools will be closed starting Wednesday through Monday for deep cleaning.
"With all due diligence, we are seeing a significant increase in cases across the district. Keeping student and staff members' safety in mind, we have made the difficult decision to close all campuses," Vardy said in a letter sent home to parents.
In her letter, Vardy asked parents and students to take steps to mitigate the further spread of the virus.
"Please be aware that COVID-19 cases around our county are increasing and affecting our neighboring school districts and communities. If a student or someone in the same household tests positive for COVID-19, it has the potential to possess devastating consequences on our school," Vardy wrote.
The district is not going to transition to virtual instruction. The district said they had extra time built into their calendar so that students will not be required to make up the lost instruction days and that classes will resume on Tuesday.
Boyd schools had already planned to be closed for Monday's MLK holiday.
Coronavirus Pandemic
Full coverage of the COVID-19 outbreak and how it impacts you
Boyd is in Wise County, just south of Decatur.