Big Thought is a Dallas-based nonprofit that prides itself on empowering young people while closing the opportunity gap. A big part of that mission is ensuring the communities these children live in are places of understanding, acceptance and hope.
Local artists ShySpeaks, Dee-1 and community leaders will conduct a virtual, panel conversation to discuss social shifts, unrest, reformation and restoration with a concert included.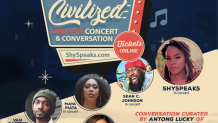 The socially-distant, drive-in event will be at Gilley's in Dallas located at 1135 South Lamar Street.
Tickets for in-person and virtual guests are available online.