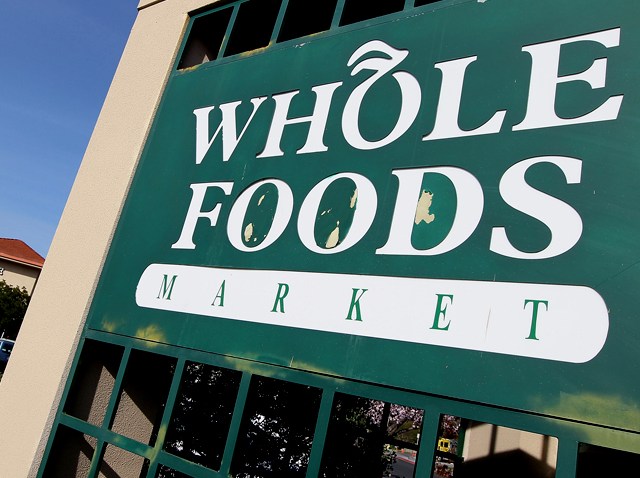 Whole Foods Market Inc.'s net income jumped sharply in the third quarter and it raised its full-year guidance as more shoppers headed to its natural and organic grocery stores.
Whole Foods was hit hard during the recession as shoppers cut back on spending. The company retooled, including a massive effort to increase its value offerings to shoppers while maintaining its focus on quality, which appears to have paid off.
The company reported Tuesday that it earned $65.7 million, or 38 cents per share for the quarter, up from the $35 million, or 25 cents per share, earned in the same quarter last year.
Revenue grew 15 percent to $2.16 billion -- driven larger by a growing customer base.
The results were in line with expectations. Analysts anticipated the company would earn 38 cents per share on revenue of $2.14 billion, according to a poll by Thomson Reuters.
Whole Foods said it is seeing loyal shoppers, returning customers and an increasing number of new customers come in its doors.
While customers are still taking advantage of many promotions and sales, they also began to modestly trade up. The sale of branded products began to outpace store-brand items during the quarter. And shoppers were making careful changes in what they buy, such as a $12 bottle of wine instead of a $10 bottle.
"There's a lot to like about that, especially in an environment that we think is a little unsteady," said Walter Robb, co-chief executive officer of Whole Foods Market.
The quarter's results were also helped by lower costs for store relocations, closings and leases. Whole Foods spent $18.2 million on those items in last year's quarter but only $700,000 this year.
Whole Foods, based in Austin, Texas, said it has several new and pending store leasing and expects new store openings to pick up in 2012.
Company leaders said they were pleased with the quarter, given gains in marketshare and key sales trends.
Whole Foods raised its full-year outlook, saying it expects to earn $1.37 to $1.39 per share for the year -- above its previous guidance of $1.33 to $1.37 per share. Analyst expect $1.37 per share.
However, the company said while sales will continue to grow, that pace could be tempered by economic uncertainty, competition and the fact that it is starting to measure against gains made last year.
Whole Foods saw revenue at stores open at least a year -- a critical measure of a retailer's performance -- grow 8.8 percent in the third quarter. That measure is expected to moderate to 6.5 to 7.5 percent in the fourth quarter.
Looking further forward, Whole Foods said it expects to that measure at 5 to 7 percent for its 2011 fiscal year, during which it anticipates earning $1.59 to $1.64 per share.
That more modest outlook didn't please more optimistic investors who sent shares down $2.34 -- nearly 6 percent -- to $39.49 in after-hours trading.
But Whole Foods remained cautiously bullish.
"We believe it reflects tempering of enthusiasm over sales growth trends and conservative based on the competitive environment and uncertainty over the economy," Robb said.
Copyright AP - Associated Press