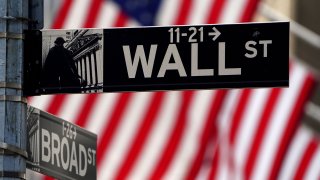 BY THE NUMBERS
U.S. stocks bounced higher in Wednesday's premarket as the runup in bond yields moderated. The 10-year Treasury yield's spike to three-month highs above 1.567% slammed tech stocks Tuesday. The Nasdaq lost 2.8%. Big Tech and growth names are sensitive to higher rates since their high valuations are based on future growth and cash flow. The S&P 500 lost 2%. The Dow sank 569 points, or 1.6%. With two days left in September, the Dow was down 3%; the S&P 500 was off than 3.7%; and the Nasdaq was nearly 4.7% lower in the historically nasty month for stocks. (CNBC)

* Jeremy Grantham: U.S. stocks are in a 'magnificent bubble,' crazier than 1929 and 2000 (CNBC Pro)
* Cramer says he's keeping new money 'on the sidelines' until the stock sell-off ends (CNBC)
* Evergrande to sell $1.5 billion stake in China bank as it faces another bond interest payment (CNBC)
On Wednesday's economic calendar, the National Association of Realtors are out with pending home sales for August at 10 a.m. ET. Economists expect the measure of home contracts signed but not yet closed to rise 1.2% after declining 1.8% in July. (CNBC)

* Mortgage demand falls as rates rise to highest level since July (CNBC)
IN THE NEWS TODAY
President Joe Biden canceled a trip to Chicago that was supposed to focus Covid vaccinations so he can stay at the White House on Wednesday to try to build support for his party's $3.5 trillion budget plan. Progress on the Democrats' budget measure could determine when the House votes on the Senate-passed $1 trillion infrastructure bill. Also hanging in the balance is the immediate need to fund the federal government beyond Thursday's fiscal year-end and to raise the nation's debt ceiling. (AP)

* JPMorgan CEO Jamie Dimon cautions a U.S. default would be 'potentially catastrophic' (CNBC)
* Sen. Warren calls Fed Chair Powell a 'dangerous man,' says she will oppose his renomination (CNBC)
United Airlines (UAL) said 593 employees are facing termination for failing to comply with the carrier's Covid vaccination policy, one of the strictest mandates from a U.S. company. More than 96% of United's 67,000-person U.S. workforce complied. The deadline to show proof of vaccination was late Monday. Roughly 2,000 United employees sought exemptions from the mandate for religious or medical reasons. Employees granted exemptions were placed on temporary unpaid leave. (CNBC)
Regulatory clearance of the Pfizer (PFE) and BioNTech (BNTX) vaccine for young children may not come until November, according to a person familiar with the matter, after the companies said they won't ask for the green light for a few weeks. The companies said Tuesday they provided U.S. health regulators with data from a recent study of their vaccine in children 5 to 11. (WSJ)

* Fauci says data from NIH's mix-and-match Covid vaccine booster trials will soon be ready (CNBC)
Lucid (LCID) has started production of its first electric vehicles for customers, with deliveries scheduled to begin late next month. The milestone is crucial for the EV start-up, which debuted on the Nasdaq in July through a SPAC merger. It's viewed as a front-runner to rival Tesla (TSLA). The top-end Lucid Air Dream Edition will be available in late October, followed by less expensive models. Lucid said it has received more than 13,000 reservations. (CNBC)
Tesla CEO Elon Musk said the U.S. government should steer clear of trying to regulate cryptocurrencies. "It is not possible to, I think, destroy crypto, but it is possible for governments to slow down its advancement," Musk said Tuesday at the Code Conference. Musk has frequently tweets support for digital coins on. Tesla said earlier this year that it bought bitcoin to "maximize returns on our cash." (CNBC)
STOCKS TO WATCH
Micron Technology (MU) reported adjusted quarterly earnings of $2.42 per share, 9 cents above estimates, with the chip maker's revenue also topping Street forecasts. However, its current-quarter forecast fell below consensus, due to computer-making customers facing shortages of other parts, and the stock fell 3.6% in the premarket.
Eli Lilly (LLY) gained 2.2% in premarket trading after Citi upgraded it to "buy" from "neutral." Citi points to valuation following a more than 15% drop in the share price, as well as its above-Street consensus earnings outlook for Lilly following a recent meeting with management.
Netflix (NFLX) rose 1% in the premarket after announcing that it bought videogame maker Night School Studio in a move to diversify its revenue sources. Night School Studio is best known for the supernatural-themed video game "Oxenfree."
Dollar Tree (DLTR) jumped 3.7% in the premarket after the discount retailer increased its share repurchase authorization by $1.05 billion to a total of $2.5 billion.
ASML (ASML) raised its annual sales outlook and the maker of semiconductor manufacturing equipment said it would see 11% annual growth through 2030 as demand for its products booms. The stock added 1% in the premarket.
AbbVie (ABBV) won FDA approval for its once-daily oral migraine treatment. The drug known as Qulipta was one of the treatments acquired in AbbVie's $63 billion purchase of Allergan last year.
Sherwin-Williams (SHW) cut its third-quarter guidance with the paint maker pointing to raw-material shortages and higher input costs. It said it no longer expects to see improved supply or lower prices for raw materials during the fourth quarter as it had previously projected. Sherwin-Williams fell 2% in premarket action.
Affirm Holdings (AFRM) said it will offer a debit card as well as allow customers to execute cryptocurrency transactions directly from savings accounts. Affirm shares jumped 3.6% in the premarket.
Cal-Maine Foods (CALM) rallied 4.4% in premarket trading after it reported a smaller-than-expected loss for its latest quarter. The egg producer's revenue topped Street forecasts as it benefited from higher egg prices.
Warby Parker (WRBY) on Wall Street today, going public via a direct listing at a reference price of $40 per share. That gives the eyewear maker an initial valuation of nearly $5 billion.
WATERCOOLER
Wednesday is National Coffee Day, a made up holiday when coffee shops, restaurants, convenience stores and coffee brands are dishing up deals. You can get free coffee at Starbucks (SBUX), Dunkin', Panera, and Krispy Kreme (DNUT). Starbucks is celebrating its 50th anniversary Wednesday. (USA Today)
Copyright CNBCs - CNBC