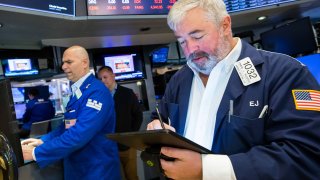 The U.S. 10-year Treasury yield dipped Thursday, as investors looked to employment data showing the slowest pace of job creation in the pandemic recovery so far.
The yield on the benchmark 10-year Treasury note fell 1.6 basis points to 2.915% by 4:07 p.m. ET. The yield on the 30-year Treasury bond moved slightly lower to 3.075%. Yields move inversely to prices and 1 basis point is equal to 0.01%.
Private sector employment rose by just 128,000 in May, payroll processing firm ADP reported Thursday. That fell well short of the 299,000 Dow Jones estimate and marked a decline from the downwardly revised 202,000 in April, initially reported as a gain of 247,000.
The benchmark rate eased as traders took the ADP report to mean the economy is already slowing, suggesting the Federal Reserve could be less aggressive in tightening monetary policy.
Meanwhile, Fed Vice Chair Lael Brainard said it's unlikely the central bank will be taking a break from its current rate-hiking cycle anytime soon as inflation remained at a 40-year-high.
"Right now, it's very hard to see the cause for a pause," she told CNBC's Sara Eisen during a live "Squawk on the Street" interview. "We've still got a lot of work to do to get inflation down to our 2% target."
Rising prices around the world remain a key concern for investors, with euro zone inflation hitting 8.1% in May, according to data released on Tuesday.
Sentiment was also hit after JPMorgan CEO Jamie Dimon warned that an economic "hurricane" caused by the Federal Reserve and the war in Ukraine is brewing. He said his company is "going to be very conservative with our balance sheet."
On the data front Wednesday, the number of April job openings declined sharply from the previous month — but the findings suggest the job market remains tight. Further, the Institute for Supply Management said its manufacturing PMI (purchasing managers' index) came in at 56.1 for May, up from 55.4 the month before.
—CNBC's Yun Li, Tanaya Macheel and Vicky McKeever contributed to this article.
Copyright CNBC