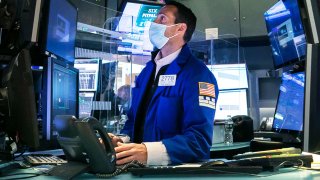 U.S. Treasury yields were mixed Monday, with investors focusing on the Federal Reserve's annual central banking event, due to be held later in the week.
The yield on the benchmark 10-year Treasury note fell less than a basis point to 1.257% at 4:10 p.m. ET. The yield on the 30-year Treasury bond rose slightly to 1.878%. Yields move inversely to prices.
"Despite a shot of exuberance felt across risk assets during Monday's trading session, treasury yields remained unresponsive as technical factors within the government bond market continue to weigh on yields," said Charlie Ripley, senior investment strategist for Allianz Investment Management. "The Fed is still buying a massive amount of bonds and it's possible investors may be overlooking how much impact this is having on outright yields."
The only way to better understand that impact, Ripley added, is if the Fed steps back from "unprecedented monetary policy" and reduces their bond purchases, and treasury yields move closer "to reflecting the fundamental economy."
The Fed's annual Jackson Hole, Wyo., symposium is due to take place virtually on Thursday and Friday. The event sees central bankers from around the world gather to discuss monetary policy.
Fed Chairman Jerome Powell is set to deliver a speech, which will be livestreamed, at 10 a.m. ET on Friday. Investors will be listening closely for any indication as to when the Fed might look to start tapering its bond purchases.
Nomi Prins, author of "Collusion: How Central Bankers Rigged the World," told CNBC's "Squawk Box Europe" on Monday that she didn't believe the Fed would announce a tapering of bond purchases at this meeting.
She suggested that this was because the effect of the spread of the delta variant continued to be seen, in the fact that it had forced the Fed to make the event virtual at the last minute.
"I think that Chairman Jerome Powell is going to step lightly as he did after the last minutes were said and say that "there is potential, we're looking further, we're data-oriented", all the sorts of things that come into Fed speak," Prins said.
"But in terms of actual taper announcement and a specific timing, I don't think that this particular Jackson Hole episode is the time or the place, and I think the Fed's going to be cognizant of this because of the virtual globality really of it," she added.
The Federal Reserve Bank of Chicago released its national economic activity index, which showed above-average growth by the U.S. economy, with a reading of 0.53 for July, compared to 0.01 in June.
Home sales rose for the second straight month but were just 1.5% higher from the same time last year, according to data released Monday by the National Association of Realtors.
Auctions are scheduled to be held on Monday for $51 billion of 13-week bills and $48 billion of 26-week bills.
Copyright CNBCs - CNBC