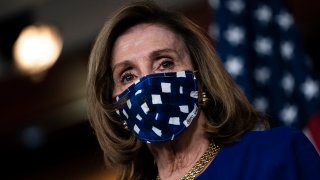 U.S. Treasury yields fell on Friday as Congress continued to haggle over pandemic relief funding.
The yield on the benchmark 10-year Treasury note dipped to 0.889%, while the yield on the 30-year Treasury bond fell to 1.614%. Yields move inversely to prices.
Congress remains at an impasse over a coronavirus stimulus package. Republican Senate leaders rejected a $908 billion aid package, proposed by a bipartisan group of lawmakers.
The U.S. House of Representatives approved a one-week extension to the current government relief funding on Wednesday, in a bid to give lawmakers more time to agree a next package. However, House Speaker Nancy Pelosi suggested on Thursday that negotiations could run through the holiday period.
"At this point, markets have priced in and are expecting stimulus near term, so if that really does not happen by the 18th (the new budget dead-line) that will be a mild headwind" for risk assets, wrote Tom Essaye, founder of The Sevens Report.
This comes as weekly jobless claims jumped to 853,000, its highest point since Sept. 19 and up from 716,000 in the previous week, according to data released by the Labor Department Thursday.
Meanwhile, the coronavirus pandemic is still trending in the wrong direction. The country recorded more than 2,700 virus-related deaths on Thursday, bringing the national death toll to at least 292,190, according to data compiled by Johns Hopkins University.
New York Gov. Andrew Cuomo announced on Friday that indoor dining will be shut down in New York City starting Monday amid a rise of Covid-19 hospitalizations.
Copyright CNBC