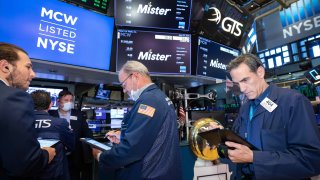 U.S. Treasury yields were slightly lower Wednesday, as investor focus remained on geopolitical tensions, along with economic data releases.
The yield on the benchmark 10-year Treasury note dipped 1.9 basis points at 2.026% shortly around 4:15 p.m. ET. The yield on the 30-year Treasury bond was 3 basis points higher at 2.332%. Yields move inversely to prices and 1 basis point is equal to 0.01%.
The minutes for the Federal Reserve's January meeting, released on Wednesday, showed that the central bankers were preparing to raise interest rates and discussed ways to reduce the balance sheet, including potentially selling some mortgage-backed securities.
"Most participants noted that, if inflation does not move down as they expect, it would be appropriate for the Committee to remove policy accommodation at a faster pace than they currently anticipate," the note said.
The 10-year yield traded higher shortly before the minutes were released but retreated toward the flatline afterward.
"There wasn't much included in there that really surprised anyone," Collin Martin, fixed income strategist at Charles Schwab.
However, short-term yields like the 2-year Treasury moved lower.
On the shorter-term front, "it looks like there might have been disappointment that there wasn't a discussion about a 50-basis point hike," Martin said.
Investors also weighed a stronger-than-expected retail sales report for January. The Commerce Department said sales jump 3.8% last month, though that number is not adjusted for inflation. The sales decline in December was also revised even lower.
Developments around a potential Russian invasion of Ukraine additionally loomed over market sentiment.
On Wednesday, NATO officials accused Russia of massing troops at the Ukrainian border.
U.S. and Russian aircraft in the Mediterranean Sea flew close to each other over the weekend, The Wall Street Journal reported Wednesday.
Markets around the world rallied on Tuesday after Russia announced that it had begun returning some of its troops from the Ukrainian border back to their bases. Treasury yields also moved higher, as investors sold out of safe haven assets, amid hopes of a de-escalation in geopolitical tensions.
In an address on Tuesday afternoon, U.S. President Joe Biden downplayed the Kremlin's claim.
"We have not yet verified the Russian military units are returning to their home bases. Indeed, our analysts indicate that they remain very much in a threatening position," Biden said, adding that there are more than 150,000 troops on the border.
— CNBC's Jesse Pound, Pippa Stevens and Amanda Macias contributed to this market report.
Copyright CNBC