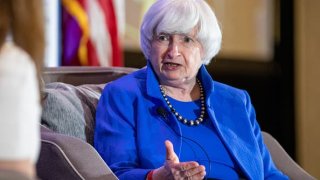 Treasury will enact a rule next year that requires shell companies to provide the department with the names, addresses and birthdays or the people who control the company.
The new rule would crack down on criminals that use shell companies to hide illegal funds behind opaque corporate structures.
"FinCEN is taking aggressive aim at those who would exploit anonymous shell corporations, front companies, and other loopholes," Acting FinCEN Director Himamauli Das said in a statement.
The Treasury Department's anti-corruption watchdog on Tuesday said it will enact a new rule early next year to require shell companies to report what's known as beneficial ownership information (BOI) about who controls them to regulators. The new reporting requirement is intended to crack down on individuals suspected of using shell companies to hide illicit funds or illegal activity behind opaque corporate structures.
The rules will require both new and existing shell corporations to register their real owners and investors with a government database. The Financial Crimes Enforcement Network, known as FinCEN, announced the start of a 60-day public comment period on the rule that ends Feb. 7, 2022.
"Millions of corporations, limited liability companies, and other entities are formed within the United States each year. While such entities play an essential and legitimate role in the U.S. and global economies, they can also be used to facilitate illicit activity," the Treasury Department said in a fact sheet.
The Treasury Department hopes that these bulked-up transparency rules will dissuade bad actors from creating shell companies to launder illicit money and hide taxable income. The database will also ultimately make it easier for law enforcement, courts and banks to track the movement of illicit funds.
Right now, few states in America require companies that register as limited liability corporations, or LLCs, to fully disclose who controls them. Some states, like Delaware and Wyoming, barely require any disclosures at all, making them magnets for shell corporations. 
Shell corporations are companies that don't engage in any actual business operations, but instead exist to help their owners achieve a financial objective like lowering tax bills, hiding assets or shielding the owner's identity in a transaction like a real estate purchase. 
The new Treasury rule will require any LLC, corporation or limited liability partnership that registers in a U.S. state to provide information on all the individuals who own or control at least 25% of the entity, and anyone who exercises "substantial control" over the business.
The new rule is not expected to substantially impact the thousands of companies that already disclose their controlling owners, as well as corporations that engage in legitimate business operations and publicly traded companies. Many of these types of entities are exempt from the new reporting rules altogether.
But experts say it could rock the world of opaque shell companies, especially those that rely on corporate secrecy to hide who really owns them.
Under the new rules, companies will be required to provide FinCEN with its owners' names, birthdates, addresses and other identifying documents. Companies created prior to the rule's enactment will have one year to file their initial reports, while those formed after the rule goes into effect will have 14 days to file.
"FinCEN is taking aggressive aim at those who would exploit anonymous shell corporations, front companies, and other loopholes to launder the proceeds of crimes, such as corruption, drug and arms trafficking, or terrorist financing," Acting FinCEN Director Himamauli Das said in a statement.
In recent years, opaque shell companies registered in the United States have been caught up in major revelations about how corrupt political leaders, terrorist groups and drug cartels hide and launder their money. 
These revelations include the major investigative reports based on the Panama Papers, the Paradise Papers and the Pandora Papers. These three massive leaks of data detailed how a network of global law firms and bankers help the very rich hide their money around the world.
How it works
Under the current U.S. disclosure laws, an international drug trafficker could hypothetically open a bank account in a country like Panama, then pay someone to register a shell company for them in Delaware. The Panama account could then transfer $10 million to the shell company as an "investment," without anyone knowing who was behind the money.
The shell company could then use that $10 million to buy a luxury penthouse in Manhattan for cash. When the shell company sold the penthouse, the proceeds from that sale would no longer look like illicit cash to regulators and banks. Now they would look like legitimate, clean sale proceeds, which could be deposited in a U.S. bank.
Under the new law, however, in order to register a shell company, the person filing the papers would need to provide FinCEN with the names and passport records of the people who actually controlled the LLC. 
It's easy to see how this new rule would make the prospect of using a U.S. shell company to launder money look a lot less appealing to an international drug trafficker.
The Treasury department also said this week that in addition to requiring shell companies to report beneficial ownership information, it's also planning to increase the reporting requirements for all-cash real estate deals.
The proposed rules are being rolled out this week as part of the Biden administration's broader effort to highlight how fighting global corruption can help strengthen democracies in the lead up to the inaugural Summit for Democracy later this week.
The two-day virtual event will gather officials from around the globe to renew commitments to democracy and tout the benefits of representative government.
The administration already announced new sanctions against foreign-government officials and people it accuses of corruption and human-rights violations.
Lawmakers and activists say the White House should use such tools to punish Russian oligarchs, Chinese officials and other alleged corrupt actors.
Treasury officials who spoke to reporters on Tuesday said their department is uniquely equipped to aid in those efforts since it oversees sanctions policies.
Correction: A previous version of this story incorrectly cited the date of the rule's enactment, which has not been announced.
Copyright CNBCs - CNBC