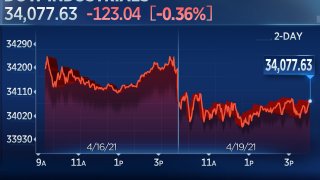 U.S. stocks slipped from record levels to start the week on Monday as weakness in the technology sector weighed on the broader market.
The Dow Jones Industrial Average fell 123.04 points, or 0.4%, 34,077.63, sliding from a record high in the previous session. The S&P 500 fell 0.5% to 4,163.26 after closing at a fresh high on Friday. The tech-heavy Nasdaq Composite lost 1% to 13,914.77.
Bitcoin was slammed over the weekend after hitting an all-time high of $64,841 Wednesday morning, according to data from Coin Metrics. At one point, it was down 19% from that record over the weekend before stabilizing. The cryptocurrency was last at $55,866 on Monday.
Tesla, a holder of bitcoin, fell more than 3%. Coinbase, a cryptocurrency trading platform that made its public debut last week, dropped 2.6%.
"Whenever a headline grabbing asset sees a big decline at a time when the broad market stands at an expensive level, it usually has a negative impact on the stock market even if it's only short-lived," said Matt Maley, chief market strategist at Miller Tabak.
Coca-Cola shares rose 0.6% after the consumer giant reported better-than-expected earnings and revenue. The company also said demand in March has returned to pre-pandemic levels.
Stocks came off a week of gains as earnings topped estimates and strong economic data lifted the major averages. The S&P and Dow advanced 1.4% and 1.2% last week, respectively, for their fourth straight week of gains, while the Nasdaq posted its third positive week in a row.
The first-quarter earnings season got off to a robust start led by strong results from banks. Financials earnings have topped expectations by 38%, while others in the S&P 500 have surprised to the upside by 12%, according to data from Credit Suisse.
"We remain bullish on equity markets overall, and see continued strength in cyclical sectors that will benefit from a broad-based economic recovery that is underway," said James Ragan, director of wealth management research at D.A. Davidson. "We look for very strong corporate results in Q1 2021 and Q2 2021, and believe that earnings estimates could be revised modestly higher."
UBS on Friday lifted its S&P 500 forecast for the year amid recent data signaling a strong economic recovery. The firm now envisions the S&P 500 ending 2021 at 4,400, which is roughly 5% above where the benchmark index closed on Friday.
On the coronavirus front, White House chief medical advisor Dr. Anthony Fauci said he expects the U.S. will resume administration of the Johnson & Johnson vaccine. The Food and Drug Administration asked states last week to temporarily halt using the single dose vaccine "out of an abundance of caution" after six women developed a rare blood-clotting disorder.
Become a smarter investor with CNBC Pro. 
Get stock picks, analyst calls, exclusive interviews and access to CNBC TV. 
Sign up to start a free trial today
Copyright CNBC