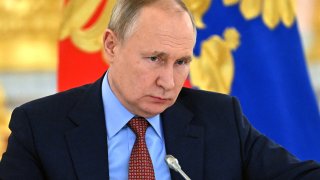 Stocks slid on Friday as increased tensions between Ukraine and Russia sent oil spiking and led investors to dump risky assets like equities.
Shares were mostly flat on the day until Ukraine-related headlines in afternoon trading caused traders to dump stocks and buy Treasurys.
The tech-heavy Nasdaq Composite fell 2.78% to 13,791.15, while the S&P 500 dropped 1.9% to 4,418.64. The Dow Jones Industrial Average tumbled 503.53 points, or 1.43%, to 34,738.06.
Stocks moved sharply lower in afternoon trading after a jump in oil prices that appeared to be tied to increased concerns about Russia taking military action against Ukraine.
With about 2 hours left to the trading day, U.S. National Security Advisor Jake Sullivan said at a White House briefing that there were signs of Russian escalation at the Ukraine border and that it was possible that an invasion could take place during the Olympics, despite speculation to the contrary.
Both the U.S. and U.K. have called for their citizens to leave Ukraine as soon as possible.
Sullivan noted that the U.S. is not certain that Russian President Vladimir Putin has made a final decision to invade Ukraine. But "it may well happen soon," he said. Stocks came off their lows and oil and bond prices retreated from their highs of the trading session following that comment from Sullivan, which slightly countered an earlier report that had sent markets reeling.
The Ukraine headlines did have a "a little bit" to do with the sell-off, said Art Cashin of UBS. He said some traders would jump on those headlines ahead of the weekend. "I think it's really because the Fed doesn't seem to have a plan."
"I don't think it's going to happen," Cashin said of an invasion. "A rumor without a leg to stand on will find a way to get around."
Some defense stocks moved higher after Ukraine headlines crossed. Northrop Grumman jumped 4.5%. Lockheed Martin added 2.8%.
Oil prices jumped, with West Texas Intermediate futures gaining 4%, as Russia is a key producer of oil and natural gas. Energy stocks moves higher alongside the price of oil, with Diamondback Energy rising nearly 4% and Devon Energy adding 3.6%. Exxon Mobil and ConocoPhillips gained 2.5% and 2.3%, respectively.
Shares of travel stocks like airlines dropped sharply. Shares of American Airlines fell nearly 6%. Expedia closed down more than 2% after stronger-than-expected fourth-quarter earnings sent the stock higher in early trading.
"Its conceivable equities see another pullback in the 10.0% range as investors sell first and ask questions later. Growth and defensives will likely outperform initially, yet we suspect value and cyclicals are best positioned for the global cyclical recovery," said John Lynch, chief investment officer at Comerica Wealth Management. "We encourage investors to adhere to long-term strategies during near-term volatility."
In the bond market, Treasury yields sank after the Ukraine news. The 10-year yield, which broke above 2% on Thursday for the first time since 2019, fell back to about 1.92% on Friday. Yields move opposite of price.
This week's volatility in the bond market started after a hotter-than-expected inflation reading on Thursday, which prompted St. Louis Fed President James Bullard to call for accelerating rate hikes — a full percentage point increase by the start of July.
However, Fed officials contacted by CNBC's Steve Liesman said that they don't expect a 50-basis-point move in March would be appropriate. A basis point is equal to 0.01%, and the Fed typically moves rates up in 25-basis-point increments. The presidents of the Atlanta, Richmond and San Francisco Feds pushed back against the idea of a double hike.
Goldman Sachs shifted its expectations for the Fed this year, calling for seven rate hikes in an effort to cool an economy that has generated inflation far more persistent than policymakers had anticipated.
"The Fed is obviously behind the curve ... It's going to have to raise rates more than the market still thinks," DoubleLine CEO Jeffrey Gundlach said Friday on CNBC's "Halftime Report." "My suspicion is they are going to keep raising rates until something breaks, which always happens."
Semiconductor stocks, which have been volatile in part due to supply chain issues caused by Covid, were underperformers on Friday. Shares of Advanced Micro Devices and Xilinx fell 10%.
In earnings news, shares of Newell Brands jumped 11% on Friday after the company beat estimates on the top and bottom lines for the fourth quarter. Shares of Under Armour dropped more than 12% after the apparel company highlighted supply chain issues in its quarterly report.
The VanEck Russia ETF fell more than 7%, suggesting that the sell-off in the U.S. could spread to overseas stocks next week. The Russian Ruble also sank against the U.S. dollar.
Another negative for market sentiment came on the economic front. The University of Michigan's preliminary consumer sentiment reading for February came in at 61.7, falling from 67.2 the previous month and missing expectations.
With Friday's drop, the three major U.S. indexes finished with a losing week.
-CNBC's Kevin Breuninger contributed to this report.
Copyright CNBC