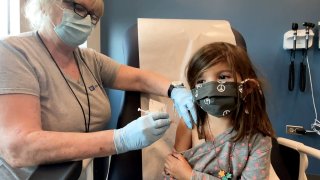 The coverage on this live blog has ended. (Check out all of CNBC's Covid-19 coverage here.)
The FDA's Vaccines and Related Biological Products Advisory Committee meets Tuesday for an all-day meeting on Pfizer and BioNTech's Covid-19 vaccine for kids ages 5 to 11.
Many parents are anxiously awaiting the approval with schools now open across the U.S. and the delta variant driving a surge in children's cases.
The White House outlined its plan last week to distribute the doses as soon as it's authorized by the Food and Drug Administration and Centers for Disease Control and Prevention, which is expected to come early next month. The Biden administration said it's procured enough vaccine to inoculate all 28 million 5- to 11-year-olds in the U.S., and will distribute it in smaller dosing and with smaller needles to make it easier for pediatricians and pharmacists to administer to kids.
The meeting starts at 8:30 a.m. ET and is scheduled to wrap up around 5 p.m. with a vote on whether to recommend the shots at the end of the day. The FDA is expected to quickly grant emergency approval for the shots before passing the matter on to the CDC for review next week.
FDA panel recommends Pfizer's Covid vaccine for kids
The FDA's key vaccine advisory committee endorsed Pfizer's Covid-19 vaccine for kids ages 5 to 11, passing the matter on to the full agency for approval.
Pfizer said its low-dose vaccine for kids, which is a third of the dosage of adults, is more than 90% effective in preventing against asymptomatic infection. The vote passed nearly unanimously with 17 supporting it and one abstention.
"To me the question is pretty clear," committee member Dr. Amanda Cohn said right before the vote. "We don't want children to be dying from Covid, even if it is far fewer children than adults and we don't want them in the ICU."
After the FDA clears the shots for emergency use, the CDC weighs in on the shots. It's scheduled to review the pediatric doses next week and is expected to swiftly clear them for public distribution immediately thereafter.
The Biden administration said it's already procured 28 million doses — enough to vaccinate all 28 million 5- to 11-year-olds in the U.S. — and is ready to roll out the first 15 million shots the first week after it's approved.
—Dawn Kopecki
Some FDA advisors push back on Covid vaccine for kids
Several members of the FDA's advisory panel pushed back on the agency's rush to clear Pfizer's vaccine for 5- to 11-year-olds.
"I'm just worried that if we say yes, that the states are going to mandate administration of this vaccine to children in order to go to school, and I do not agree with that," committee member Dr. Cody Meissner said. "I think that would be an error at this time until we get more information about the safety."
Temporary committee member Dr. James Hildreth said some estimates indicate that over 40% of all children nationwide have some form of immunity against Covid.
"It just seemed to me that in some ways we're vaccinating children to protect the adults when it should be the other way around," Hildreth said, adding that he supports vaccines for high-risk children. "If 30 million children already have some form of immunity, they've made their contribution to herd immunity already and our focus should be to get the adults vaccinated to protect the children."
—Robert Towey
Committee Chairman Monto takes final questions before vote
The committee's acting chairman, Dr. Arnold Monto, has begun taking final questions from members before beginning the final discussion on the vote.
The group may vote on Pfizer's vaccine for kids sooner than expected as the earlier presentations and debate cut into the scheduled discussion time for the vote, he said.
He said voting members would have time to explain their vote after the committee issues its recommendation.
–Berkeley Lovelace Jr.
Committee members criticize FDA on models used to project kids' Covid cases
Members of the FDA's advisory committee criticized agency officials for using conservative assumptions for waning vaccine effectiveness during their risk-benefit analysis of immunizations in 5- to 11-year-olds.
Researchers from the FDA based their projections of kids cases around an assumption that Pfizer's Covid vaccine would be about 70% effective over six months.
Richard Forshee, associate director for research at the FDA's office of biostatistics and epidemiology, told the panel they also increased the risk for heart inflammation in order to make the models more "sensitive to the Covid-19 incidence rate."
"We think that we're using a very high rate for the risks of myocarditis, pericarditis, and we are looking primarily for hospitalizations and ICUs for Covid-19," Forshee said. The assumptions were used to conclude that the benefits of preventable deaths and hospitalizations outweighed the risks of severe side effects from the vaccine.
Committee member Dr. Mark Sawyer, a pediatrician, said he thought the model overestimated the number of hospitalizations that will be prevented with the vaccine.
"But I also think the risk of myocarditis is probably conservative, based on the natural history of myocarditis generally being less common in this age group," he said. However, he added, "the models are the best we have at the moment, as was just mentioned, we are not going to get the data unless we start to use this vaccine."
Nursing groups press FDA to clear pediatric shots
Leaders of two nationwide nursing organizations told the panel their members back pediatric vaccinations, saying the shots were immediately needed.
Linda Mendonca, president of the National Association of School Nurses, said the organization supports Covid immunizations as a way to end the pandemic and urged all eligible students and educational staff to get vaccinated. Andrea Kline-Tilford, president of the National Association of Pediatric Nurse Practitioners, endorsed Pfizer's vaccines for children out of concern for the acute illness and inflammatory conditions that can arise in young Covid patients.
"With the adjusted dosing for children 5 to 11, we can protect our school age children immediately and further heal them from physical and mental health consequences," Kline-Tilford said.
– Robert Towey
Consumer drug safety advocate urges caution
Kim Witczak, a drug safety advocate, urged caution on giving the vaccine to kids, asking the advisory panel to at least recommend against mandating it in schools.
"Is there really an emergency with this age group? Or is it being driven by a larger political agenda?" asked Witczak, who serves as a consumer representative on the FDA's Psychopharmacologic Drugs Advisory Committee.
The Biden administration has already secured 26 million doses, enough to vaccinate every kid aged 5 to 11 in the U.S., she noted. California Gov. Gavin Newsom has already said he intends to mandate vaccines for public school children once they are fully approved. "It must be exceedingly difficult to vote your conscience when it seems that all the decision has already been made for you," she said.
"We live in a polarized society today," she said. "There are two segments of American people, one that's eagerly awaiting FDA authorization and a large segment of the American public that is not quite ready to inject their children with an experimental product and certainly don't want to be forced in order to go to school or live in society."
—Dawn Kopecki
Public commenters air their complaints, and support, for Pfizer kids' vaccine
The FDA's advisory panel has started taking comments from the public — a process that vets complaints, suggestions and support from a wide array of people, including vaccine recipients, parents and nurses, among others.
One speaker called on the advisory panel to reject Pfizer's emergency use authorization pending further research, while another claimed her daughter experienced a neurological reaction after receiving the first dose of Pfizer's vaccine. Commenter Robert Edmonds said he suffered tinnitus – a ringing in the ears – after getting Moderna's vaccine, an unproven side effect from the treatment.
"While my main goal is simply to encourage early and appropriate treatment for this rare event and support continued Covid vaccination, I have also encouraged investigations into this matter because I had hoped that there would eventually be study into the process that results in this condition," Edmonds said.
– Robert Towey
FDA advisory panel breaks for lunch
The FDA's advisory committee on vaccines recessed for a 30-minute break for lunch after hearing a staff presentation that supported Pfizer's vaccine application.
Panel Chairman Dr. Arnold Monto said the group would reconvene at 1 p.m. ET.
Before the break, Hong Yang, senior advisor at the FDA's Office of Biostatistics and Epidemiology, said her group modeled several different scenarios of myocarditis cases stemming from the vaccine and Covid deaths projected in kids.
Even in the worst-case scenario where hospitalizations from side effects of the vaccine run on the high said, she said the benefits to the shots for kids may still outweigh the risks. Other models that predict fewer heart inflammation cases show a clear benefit to the vaccine, depending on the trajectory of the pandemic and real-world side effects, she said.
The group is scheduled to hear public comments from 1 p.m. to 2 p.m. and then final debate and questions about the shots for kids before voting on whether to recommend them to the agency for its approval. The meeting is scheduled to adjourn at 5 p.m.
—Dawn Kopecki
FDA notes no severe reactions or deaths in Pfizer's kids study
There were no "significant adverse events" or deaths in Pfizer and BioNTech's early trials testing their Covid-19 vaccine in young kids, Food and Drug Administration official Dr. Leslie Ball noted during a presentation to the committee.
The phase one portion of the trial enrolled 48 children in the United States who were not at high risk of Covid exposure or severe disease and did not have evidence of a prior infection, she said. No children withdrew from this phase of the trial, she said.
She said there were similar immune responses to the 10 microgram dose of the vaccine as there were for the 20 and 30 micrograms, leading researchers to discontinue the higher doses and proceed with 10 micrograms.
The most common side effects reported in the trials were injection site pain, fatigue and headache, usually after the second dose, Ball said.
–Berkeley Lovelace Jr.
Pfizer says kids' doses will come in special packaging
Pfizer's vaccine for 5- to 11-year-olds will include different directions and packaging to help medical providers avoid confusing the shots with the company's doses for individuals over 12.
Responding to concerns about accidentally giving too strong a dose to children under 11, Pfizer will issue new instructions and dilution warnings with its vaccines for younger age groups, Dr. Nicholas Warne, the company's vice president for pharmaceutical research and development, told the FDA's vaccine advisory committee.
The shots for 5- to 11-year-olds will also come with orange caps, labels and boxes to contrast with the purple packaging used on Pfizer's doses for anyone 12 and older.
"We have tried to maximize as best we can the number of ways we can differentiate the pediatric dosage form from the current dosage form," Warne said.
—Robert Towey
Pfizer says vaccine side effects for kids comparable to young adults
Young children experienced vaccine side effects at rates similar to those seen in a clinical trial of teens and adults ages 16 to 25, Dr. William Gruber, senior vice president of vaccine clinical research at Pfizer, told the committee.
The incidence and severity of fever and chills were actually lower in children ages 5 to 11 when compared to the older age group, he said.
"Across the other systemic event parameters, you can see that responses were comparable or less to those seen in 16-to 25-year-olds, representing a satisfactory reaction profile," he said.
–Berkeley Lovelace Jr.
CDC hasn't seen increased myocarditis in 12- to 17-year-olds following vaccination
The CDC hasn't seen increased rates of myocarditis caused by vaccines among children ages 12 to 17, Dr. Matthew Oster, an agency official and pediatric cardiologist, said during a presentation to the FDA's vaccine advisory panel.
The rare heart inflammatory syndrome can be triggered in children with multi-system inflammatory syndrome due to Covid, or MIS-C.
Though the CDC has tracked over 5,000 Covid-related MIS-C cases, Oster said the agency isn't "really seeing a big signal yet" that connects the condition to vaccines for pediatric patients over 12. The CDC has identified 24 individuals who got vaccinated before experiencing MIS-C, 18 of whom had evidence of recent Covid infection, Oster said.  
"I'm reassured that we haven't seen, you know, high rates of MIS-C associated with vaccines in the natal and in the older kids," Oster said.
—Robert Towey
Pfizer begins making pitch to FDA to clear kids' shots
Dr. William Gruber, a senior vice president of vaccine research and development at Pfizer, began making the pitch to the FDA to clear the company's vaccine for kids.
He said Covid infections were unpredictable in children and could affect healthy kids almost as easily as those with underlying health conditions. Almost one third of kids hospitalized with Covid were otherwise healthy, he said. He said the need for a safe and effective vaccine was clear.
"Vaccinating children has other large societal benefits," he said, noting that kids play an important role in transmitting the virus and vaccinating them could help the U.S. reach herd immunity. "Vaccination will help ensure in person learning which is critical for childhood development by limiting community spread and school outbreaks."
—Dawn Kopecki
CDC reports 1,640 cases of myocarditis in people under age 30
There have been 1,640 cases of myocarditis reported in people under 30 who received Pfizer or Moderna's Covid vaccines as of Oct. 6, Dr. Mathew Oster, a CDC official, told the FDA's vaccine committee.
Just 877 met the CDC's case definition for myocarditis, and 637 of the reported cases are still under review, he said.
At least 829 of the people with the rare heart condition were hospitalized, but the majority of them recovered and were discharged. Nineteen remained hospitalized with five in the ICU, he said.
–Berkeley Lovelace Jr.
School closures impacted more than 1 million kids, CDC says
There have been more than 2,000 Covid-19 related school closures nationwide since August, affecting more than 1 million children and 68,000 teachers, said CDC official Dr. Fiona Havers, citing Google News data.
School closures can impact a child's social, emotional and physical well-being, Havers said.
"Lost in-person learning is another potential adverse outcome of Covid-19 illness and exposure among children," she said, adding there's been a "disproportionate impact" on communities of color.
—Berkeley Lovelace Jr.
Correction: This post was updated to reflect that there have been more than 2,000 Covid related school closures since August.
CDC identifies risk factors for severe Covid in kids
The Centers for Disease Control and Prevention presented data at the FDA's meeting on 562 children ages 5 to 11 who were hospitalized with Covid-19 from March 2020 through August.
The CDC's analysis identified underlying medical conditions – such as obesity, chronic lung disease and neurological disorders – as risk factors for severe disease. Of the 562 children hospitalized, 68% had at least one underlying condition, said CDC official Dr. Fiona Havers.
The most common underlying medical condition was lung disease, primarily asthma, she said.
—Berkeley Lovelace Jr.
FDA proposes voting question for committee
Dr. Ramachandra Naik of the FDA's Office of Vaccines Research and Review for the Center of Biologics Evaluation and Research presented the voting question before the committee.
The plan is to vote on a smaller dosage for kids at a third of the amount of an adult dose, which is what Pfizer and BioNTech tested on kids, saying Friday that it was more than 90% effective.
–Berkeley Lovelace Jr.
'Small army' of FDA staff worked around the clock on kids' data
Dr. Doran Fink, a deputy director of the FDA's division of vaccines, said a "small army" of FDA staff worked around the clock over the last month to ensure the data on kids they were presenting today was as accurate as possible.
He said they "worked tirelessly, working nights, weekends and holidays for longer than I can remember."
Over the past month, in particular, he said they were "literally working around the clock at times to ensure that the information that we present, we are as certain as possible about its accuracy and that we are as transparent as possible in the areas that we have uncertainty."
—Dawn Kopecki
Kids ages 5 to 11 account for 9% of U.S. Covid cases, FDA official says
Children ages 5 to 11 account for roughly 9% of all reported Covid-19 cases in the U.S., Dr. Doran Fink, a deputy director of the FDA's division of vaccines, said during an overview of Pfizer's clinical trial data.
The age group also accounts for approximately 40% of all pediatric Covid-19 cases, near the highest of any other age group, he said.
"As we head toward the winter months, where people will be forced to go more inside and as we continue to adhere to a national priority of getting life back to normal as much as possible, which includes keeping children in school and involved in their activities, it is likely because we have not reached herd immunity that transmission of the virus will continue," he said.
—Berkeley Lovelace Jr.
FDA officials Dr. Marks asks panel members to keep debate 'civil'
The FDA's Dr. Peter Marks, who is the agency's de facto top vaccine regulator as director of the Center for Biologics Evaluation and Research, asked committee members to keep today's debate "civil," saying there were strong feelings on both sides.
"To be clear, today's discussion is going to be about the scientific data that are presented, and it's not about vaccine mandates which are left to other entities outside of FDA," Marks said at the top of the meeting. "I ask that we keep our discourse today civil and focus on the science related to this issues so that we can get through a productive discussion."
—Dawn Kopecki
Committee Chairman Monto says they will 'review the science'
Dr. Arnold Monto, who is the committee's acting chairman, opened the meeting at about 8:30 a.m. Monto is a leading epidemiologist at the University of Michigan's School of Public Health.

"There's been a lot of interest in this subject," he said in his opening remarks. The meeting is being conducted entirely online. "We are going to review the science here and make a decision that I know affects a lot of people."

–Berkeley Lovelace Jr.
FDA staff says the benefits generally outweigh the risks
The staff of the Food and Drug Administration published an analysis late Friday, saying a smaller dosage of Pfizer and BioNTech's Covid-19 vaccine appears to be safe and highly effective in kids ages 5 to 11.
FDA scientists noted the increased risk of myocarditis and pericarditis but said the benefits of the shots, including preventing severe disease, hospitalization and death, would generally outweigh the risk of the rare inflammatory heart conditions.
"If the myocarditis/pericarditis risk in this age group is lower than the conservative assumption used in the model, the benefit-risk balance would be even more favorable," they wrote.
–Berkeley Lovelace Jr.
Copyright CNBC