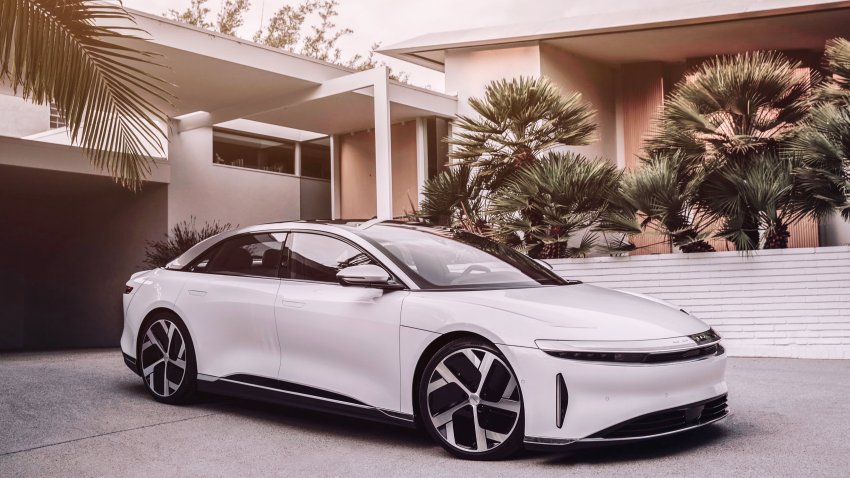 EV start-up Lucid plans to go public through a reverse merger with a blank-check company started by veteran investment banker Michael Klein.
The deal is the largest in a series of such tie-ups involving electric vehicle companies and blank-check firms.
Lucid is led by ex-Tesla engineering executive and automotive veteran Peter Rawlinson.
A record reverse merger deal between Lucid Motors and Churchill Capital Corp IV sent shares of the SPAC run by well-known investor Michael Klein tumbling in midday trading Tuesday.
The price of the stock of the special purpose acquisition company, or SPAC, was nearly cut in half to $30 in intraday trading. The shares recovered slightly to close at $35.21 a share, down 38.6%.
The drop comes after shares of Churchill rose by more than 470% after it was first reported that the companies were in talks for a merger last month. In formally announcing the deal Monday night, the companies confirmed a delay in deliveries of its first car – a luxury sedan called the Air –  from this spring until the second half of this year.
Lucid CEO Peter Rawlinson attributed the decline in the share price to media reports that the company's expected valuation was between $12 billion and $15 billion, which led to an initial misunderstanding of the announced deal by investors.
"I think that the market is yet to properly comprehend what's going on," he told CNBC during a Zoom interview Tuesday afternoon. "Because to me, what was announced overnight was fantastically positive compared with anything that had been reported before."
The equity value of the deal ended up being higher than that range at $16.3 billion but would pay existing Lucid shareholders $11.75 billion. The deal values Lucid at an initial pro forma valuation of $24 billion.
Rawlinson said the increase in valuation was due to an "overwhelming" response by investors leading to an oversubscription in the private investment in public equity, or PIPE, that's part of the deal. He said the demand led to upping the PIPE from $1 billion to $2.5 billion as well a 50% increase in the price per share of the PIPE to $15 per share, which led to the higher valuation.
"I think that investors have looked to the $24 (billion) and said, 'Oh my god,' we thought it was between $12 (billion) and $15 (billion) ... This is a disaster," Rawlinson said. "Actually it's a bargain at $11.5 (billion)."
Lucid also expects negative free cash flow through 2024 and will need $600 million in bridge financing until the deal's expected closure in the second quarter, according to an investor presentation by the companies. Rawlinson said the delay in its first vehicle is largely due to the coronavirus pandemic.
The deal between Newark, California-based Lucid and Churchill is the largest in a series of such tie-ups involving EV companies and so-called blank-check firms. Previous SPAC deals with EV start-ups such as Nikola, Fisker and Lordstown Motors garnered pro-forma valuations of less than $4 billion.
The deal, which was announced Monday night, will generate about $4.4 billion in cash for expansion plans for Lucid, including its current factory in Arizona.
"I think that this has enabled us to secure our future," Rawlinson said Tuesday morning on CNBC's "Squawk on the Street." "This means that we can accelerate our business model in a secure manner."
Rawlinson, an ex-Tesla engineering executive and automotive veteran, joined the company as chief technology officer in 2013 before adding CEO to his responsibilities in April 2019. He is expected to continue in those roles, according to the companies.
The combined company is expected to be listed on the New York Stock Exchange under the ticker "LCID" upon the closing of the deal.
Lucid was founded in 2007 as Atieva, a name it now uses for its engineering and tech arm that supplies batteries to electric racing circuit Formula E. The company first focused on electric battery technology before changing its name and shifting to an electric vehicle manufacturer in 2016, three years after Rawlinson joined the company to lead its technology development.
Lucid had some difficulty obtaining capital to fund its plans until September 2018 when it received $1 billion from Saudi Arabia's sovereign wealth fund.
The new funding is expected to assist Lucid in its expansion plans. Rawlinson expects the Air to be the catalyst for a lineup of future all-electric vehicles, including an SUV starting production in early 2023 and more affordable vehicles down the line.
Lucid currently employs nearly 2,000 people, with 3,000 employees expected to be added in the U.S. domestically by the end of 2022, according to the company.
The deal includes a total investment of about $4.6 billion. It is being funded by $2.1 billion in cash from CCIV and a $2.5 billion fully committed PIPE at $15 per share by Saudi Arabia's sovereign wealth fund as well as funds and accounts managed by BlackRock, Fidelity and others.
Correction: This article has been updated to correct the equity value of the deal. It's $16.3 billion.
Copyright CNBCs - CNBC