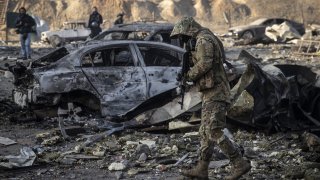 This has been CNBC's live blog covering updates on the war in Ukraine. Follow the latest updates
here.
Ukraine has rejected an ultimatum to surrender its besieged port city of Mariupol to Russian forces. President Volodymyr Zelenskyy told Eurovision News that ultimatums won't work as trapped Ukrainians will "fight till the end."
Meanwhile, the Pentagon said Ukrainian forces — including civilians — have put up a strong resistance against Russian forces, and the Kremlin is struggling to achieve its goals in Ukraine. "I think what we're seeing here is the Russians have been flummoxed, they've been frustrated," said Pentagon spokesperson John Kirby.
Earlier, Ukrainian authorities said Moscow had demanded Mariupol be handed over by 5 a.m. Russian forces said they would spare the lives of those who complied with their surrender ultimatum and would allow civilians to leave if their demands were met.
Thousands of civilians are trapped in the city, which is running dangerously low on vital supplies like food, water and medicines.
'Russians have been flummoxed': Pentagon says Russia is struggling to achieve its goals
Nearly a month since Russia invaded Ukraine, Russian forces have been unable to achieve their objectives, according to the U.S. Department of Defense.
"We're on day 26 [and] the Russians have clearly not achieved many, or almost all of the objectives that ... we believe they were setting out to achieve," said Pentagon spokesperson John Kirby at a briefing on Monday.
"They wanted to get after population centers so that they could take control of key ports, key cities, key government institutions," he said, adding that the Kremlin wanted to install a government that is "more friendly to Russia."
So far, Kirby said, Pentagon leaders believe the Russians have taken Kherson, and the Ukrainians have launched a counterattack there.
"I think what we're seeing here is the Russians have been flummoxed, they've been frustrated. They have failed to achieve a lot of their objectives on the ground," he added.
— Sumathi Bala 
Trapped Ukrainians will 'fight till the end' and ultimatums won't work, says Zelenskyy
Ukrainian president Volodymyr Zelenskyy said in an interview with Eurovision News that his country will not submit to ultimatums from Russia.
"People will either leave the city or those who cannot leave will fight till the end. Therefore, an ultimatum, is a bad thing because it will lead to genocide and the destruction of the Ukrainian people," he told the European Broadcasting Union, an alliance of public broadcasters, on Monday.
Whether it comes to Ukraine's membership to NATO, or other forms of compromises, it needs to be accepted by the people, Zelenskyy added.
"When you talk about certain changes and they can be historic, we are not going anywhere. We will come to the referendum. Our people will have to say and give an answer to certain formats of compromises," he said. "What will those be? It will be defined by our conversation and understanding between Ukraine and Russia."
The president said residents of occupied cities such as Melitopol and Berdyansk will continue to resist Russian forces.
"We hate these troops who are destroying us and killing our people, [and we hate] their policy. We don't care, if we want peace, we need to sit down and talk," he added. "The right word is to negotiate. Negotiate as you have to. But to negotiate, not to execute ultimatums."
— Sumathi Bala
Ukrainian girl who went viral for singing "Let it Go" in Kyiv bomb shelter performs in Poland
Seven-year-old Amellia Anisovych, a refugee from Ukraine, center, sings the Ukraine national anthem at the start of a fund-raising concert in Lodz, Poland, Sunday, March 20, 2022.
Anisovych became widely known for singing a song from the movie Frozen in a bomb shelter in Kyiv in early March. She has since come to Poland with her grandmother and brother.
Her parents remained in Kyiv.
—Associated Press
Democrat refuses to take donations from Koch Industries as company remains in Russia
Rep. Kurt Schrader, D-Ore., won't accept future donations from Koch Industries and will contribute what it has recently received to a charity dedicated to providing aid to Ukraine, spokeswoman Deb Barnes told CNBC on Monday.
The move comes after Koch Industries decided to continue doing business in Russia, even as other major U.S. and European companies flee the country to avoid sanctions over its invasion of Ukraine.
Schrader's campaign received $4,500 from the Koch Industries' political action committee during the 2022 election cycle, according to the nonpartisan Center for Responsive Politics, which tracks campaign donations and spending.
Ethics attorneys say that the donations could represent an effort by Koch to influence lawmakers as they work to provide further help to Ukraine, with some lawyers calling for those on Capitol Hill to return the contributions.
More than two dozen lawmakers saw nearly $110,000 from the Koch Industries PAC in February, as Russian President Vladimir Putin started moving his forces into Ukraine.
— Brian Schwartz
Russian naval activity in the Black Sea has increased, Pentagon says
Pentagon spokesman John Kirby said the U.S. has observed an increase in Russian naval activity in the Black Sea near the Ukrainian city of Odesa.
Kirby said that some of the bombardment around Odesa is coming from a mixture of different types of Russian warships in the sea but was unable to confirm munitions or targets.
"We just see indications that they have increased their activity in the northern Black Sea. That's not something that we had observed over the last few days," Kirby said.
Earlier in the day, a senior Defense official, who spoke on the condition of anonymity, told reporters that it was too soon to say whether Russian forces were planning an amphibious assault of Odesa.
– Amanda Macias
U.S. corporations should be 'prepared for the worst'
U.S. Commerce Secretary Gina Raimondo and other Biden administration officials warned business leaders they should be "prepared for the worst" as world leaders punish Russia with crippling economic sanctions over President Vladimir Putin's war against Ukraine.
Executives across energy, food and manufacturing industries met with Raimondo, President Joe Biden, Treasury Secretary Janet Yellen, National Security Advisor Jake Sullivan and others to discuss the war.
While NATO allies are doing everything to pressure Putin to end the war quickly, "we know that that might not be possible. And so we're also prepared for this to last quite a long time," Raimondo told reporters after the meeting.
— Dawn Kopecki
Russians trying to encircle Mariupol, Pentagon says
The Pentagon said Russian troops are attempting to encircle the southeastern Ukrainian city of Mariupol but have yet to take it from Ukrainian forces.
"They clearly want to take Mariupol. It's a city port city there on the Sea of Azov and it's a link between the Donbas area and Crimea," Pentagon spokesman John Kirby said during a press conference.
"You can see why Mariupol might be of interest but the Ukrainians are defending it bravely and have been able to stymie the Russians' efforts to take it," he said.
Kirby added that the Russians have attempted to encircle Mariupol from both the north and up its coast.
– Amanda Macias
Zelenskyy says Russia will have to 'destroy us all' before it surrenders Mariupol
Ukrainian President Volodymyr Zelenskyy said Russia will have to "destroy us all" before it will surrender the port city of Mariupol, according to a transcript of an interview he did with several public broadcasters.
Russian National Defense Control Center Head Mikhail Mizintsev has said the Kremlin would allow peaceful civilians to evacuate Mariupol — only after Ukraine's military surrendered the city and left unarmed, NBC News reported.
"Ukraine cannot fulfill these demands. They would first have to destroy us all to have their ultimatum fulfilled," Zelenskyy said in the interview translated by NBC News. "We would never give Kharkiv, Mariupol or Kyiv. Neither residents of those cities, nor I, the president can do this."
In a separate nterview with NBC News, Ukraine's Deputy Prime Minister Iryna Vereshchuk said at least 14 local leaders had been kidnapped or abducted by Russian troops since the invasion began. NBC News has not been able to independently verify that, but Vereshchuk said the abductions include mayors and leaders of the territorial communities.
— Dawn Kopecki
NATO official sees Russia war entering a stalemate
The nearly monthlong Russian war in Ukraine is on the verge of entering a stalemate, said a senior NATO intelligence official, with Ukrainian forces preventing Russia from making progress but Russian President Vladimir Putin showing no willingness to back down. 
"If we're not in a stalemate, we are rapidly approaching one," said the NATO official, who spoke on condition of anonymity to discuss sensitive military assessments. "The reality is that neither side has a superiority over the other."
Belarus, a close Russian ally, may soon attack Ukraine itself and is preparing to potentially let Russia position nuclear weapons on Belarusian soil, the official said. Belarus has already allowed Russia's military to use its territory to invade Ukraine.
— NBC News
Russian forces make little progress in advance on Kyiv
A senior U.S. Defense official said Russian forces in Ukraine have made little progress in their advance on Kyiv.
The official, who asked not to be named to share details of the combat, said that Russian troops are still approximately 10 to 15 miles outside of Kyiv's city center, a distance Russian forces attained weeks ago and have yet to shorten.
Last week, the same Defense official said it was the Pentagon's belief that Russian forces plan to encircle Kyiv.
The official said the Pentagon has received anecdotal reports of some Russian troops experiencing morale issues but cautioned that the U.S. was not able to assess how much of Russian President Vladimir Putin's military felt this way.
For weeks, Russian forces have been slow to alleviate long-standing logistical challenges, including the resupply of food and fuel to troops on the front.
– Amanda Macias
Russia has launched more than 1,100 missiles since start of war
Russian forces have launched more than 1,100 missiles during the Kremlin's 26-day war in Ukraine, according to a senior U.S. Defense official.
The tempo of missile launches, a mixture of short and medium-range as well as cruise and ballistic, have increased out of frustration over a stalled Russian ground fight.
The official, who asked to remain anonymous to share details of the fighting, said the U.S. is no longer providing a tally of where the missiles are being fired from. In previous weeks, the Pentagon said nearly half were being fired from mobile platforms inside of Ukraine.
The Defense official was unable to confirm reports that Russian forces fired a hypersonic missile into Ukraine and instead added that the use of such a weapon might have been used to stoke fear.
– Amanda Macias
Russia says U.S. relations 'on the verge of rupture'
The Russian Ministry of Foreign Affairs said it summoned U.S. Ambassador John Sullivan in Moscow to formally protest President Joe Biden's decision last week to label Russian President Vladimir Putin a "war criminal."
Sullivan was told that Biden's accusation had put "Russian-American relations on the verge of rupture," according to a statement from the Foreign Ministry translated by NBC News.
Biden said March 16 that he believes Russian leader Vladimir Putin "is a war criminal" for his attacks on Ukraine. It was the first time Biden had publicly branded Putin with that phrase.
— Christina Wilkie
Mila Kunis and Ashton Kutcher raised over $34 million for Ukrainian refugees
Actors Ashton Kutcher and Mila Kunis have raised more than $34 million in donations for humanitarian aid to Ukraine and temporary housing for Ukrainian refugees, according to the couple's Go Fund Me page.
Kunis was born in Ukraine, and she calls herself "a proud Ukrainian."
The money raised is going to the charitable arms of two Silicon Valley startups, housing rental giant Airbnb and shipping broker Flexport. Airbnb is providing free short-term housing to Ukrainian refugees, while Flexport is overseeing relief shipments for refugees.
Top donors to the campaign include billionaire Larry Ellison, tech venture capitalist Yuri Milner and model Karlie Kloss and her husband Josh Kushner.
--- Christina Wilkie
More than 920 killed due to conflict in Ukraine, UN says
Editor's note: Graphic content. The following post contains images of casualties in Ukraine.
The Office of the United Nations High Commissioner for Human Rights said more than 920 people have died due to the armed conflict in Ukraine.
The UN's tally, which spans from Feb. 24 to March 20, includes 925 deaths and 1,496 injuries. Of those killed, 39 are reported as children.
"Most of the civilian casualties recorded were caused by the use of explosive weapons with a wide impact area, including shelling from heavy artillery and multiple-launch rocket systems, and missile and air strikes," the UN High Commissioner for Human Rights wrote in a release.
The international group also "believes that the actual figures are considerably higher" but adds that reporting is delayed and difficult to corroborate. 
– Amanda Macias
Global regulators worry crypto assets are being used to evade sanctions
The global Financial Stability Board is closely scrutinizing the use of crypto assets during the war in Ukraine after concerns they could be used to evade Western sanctions on Russia.
Some crypto exchanges have rejected calls to cut off all Russian users, raising concerns that crypto could be used as a way to circumvent sanctions.
Ukraine has also raised millions of dollars in cryptocurrencies after posting appeals on social media for donations in bitcoin and other digital tokens.
The FSB, which groups financial regulators, central banks and finance ministry officials from the Group of 20 economies, is sharing the information it obtains among its members.
– Reuters
Biden to speak with Macron, Scholz, Draghi and Johnson ahead of NATO meeting
President Joe Biden will speak with French President Emmanuel Macron, German Chancellor Olaf Scholz, Italian Prime Minister Mario Draghi and British Prime Minister Boris Johnson about Russia's unprovoked war in Ukraine.
The 11 a.m. ET secure conference call with allies comes ahead of this week's emergency NATO leaders meeting in Brussels, Belgium.
Later in the day, Biden will also consult with Treasury Secretary Janet Yellen, national security advisor Jake Sullivan, National Economic Council Director Brian Deese, Commerce Secretary Gina Raimondo and CEOs about the U.S. response to Russia's assault on its neighbor, which has gone on for nearly a month.
– Amanda Macias
Israeli field hospital to open in Lviv
Maksym Kozytskyi, head of the Lviv Regional State Administration, announced that an Israeli field hospital will be opened in the Lviv region on March 22.
The hospital — which will be in the Yavoriv district of the city of Mostyska — will provide assistance to internally displaced people as well as residents of Mostyska and surrounding communities, Kozytskyi said in a Telegram post.
"The medical institution will operate in specially equipped tents. Here, Israeli doctors will conduct an initial examination, as well as a separate insulator," he said.
"If a person needs surgery, Israeli specialists will be able to operate on the premises of the community hospital. Three wards [will be] equipped for the inpatient stay of patients in the hospital: men's, women's and children's. Almost 100 people will work in the bridge hospital, more than 60 are doctors."
Ukrainian President Volodymyr Zelenskyy addressed Israeli lawmakers on Sunday, urging them to impose sanctions on Russia in response to Moscow's invasion of Ukraine.
Israel has condemned Russia's attack on Ukraine, but has not imposed any economic sanctions on Moscow. Under Israeli law, sanctions can only be imposed on a country designated as an enemy state, according to NBC News.
— Chloe Taylor
Russia has shelled Zhytomyr region for the first time, official says
Vitaliy Bunechko, governor of Ukraine's Zhytomyr region, said in an address posted to Facebook that Zhytomyr had been shelled for the first time since the Russian invasion began.
"Zhytomyr region was shelled for the first time by Grad missiles," a caption accompanying the address said, according to an NBC News translation. "Three servicemen and one civilian were killed."
CNBC has not been able to independently verify this information.
In recent weeks, Russian forces have been widening their attacks and targeting cities further into Ukraine's west — away from the Russian border.
On Friday, missiles hit the outskirts of Lviv, a city in western Ukraine which — until the attack — had not been the site of active hostilities. Many Ukrainians fleeing their homes have poured into Lviv as Russia's invasion rages on.
— Chloe Taylor
Images show destroyed Retroville shopping mall in Kyiv
Images show the destruction of the Retroville shopping mall after a Russian attack on the northwest of Ukraine's capital city Kyiv.
Editors' note: Images contain graphic content.
— Getty Images
Kyiv imposes new curfew, advises residents to wear respirators outside
Residents of Kyiv have been advised to wear medical respirators outside as the Ukrainian capital prepares for another curfew order to begin.
In a video posted to Telegram, Kyiv Mayor Vitaliy Klitcshko said the air in the capital had become contaminated in the aftermath of Russian air strikes.
"Due to fires after air strikes in the capital and the region, air pollution is observed, so do not open the windows," he said. "And when you go outside, protect your lungs by wearing a medical respirator, type FFP2."
Meanwhile, the Kyiv City State Administration said on Telegram also on Monday that a fresh curfew would come into force in the capital from 8 p.m. local time. The curfew will last until 7 a.m. on Wednesday, authorities said.
Kyiv imposed a 35-hour curfew between Tuesday and Thursday last week.
Ukrainian officials additionally confirmed that eight people had been killed in an air strike on Kyiv's Podil district late on Sunday.
— Chloe Taylor
Kremlin says talks with Ukraine not progressing as much as Russia would like
Kremlin spokesperson Dmitry Peskov told reporters that there hasn't been as much progress in talks with Ukraine as Moscow would like.
"The Russian side demonstrates a much greater willingness to work quickly and meaningfully than the negotiators from the Ukrainian side," he claimed.
He said the Kremlin called on other countries to "use their influence on Kyiv in order to make Kyiv more compliant, more constructive in these negotiations."
Peskov also said during the briefing that a meeting between Russia and Ukraine's presidents can happen only once negotiations have been completed and any agreements between both sides have been coordinated.
"No significant progress has been made yet," he told reporters. "To talk about the meeting of the two presidents … they have nothing to agree upon so far. There are no agreements that they can approve."
— Chloe Taylor
Putin will attack more countries if we concede land, Ukrainian lawmaker says
Ukrainian lawmaker Oleksiy Goncharenko has told CNBC that Russia does not understand compromises, and if Ukraine concedes land to Moscow, Russian President Vladimir Putin will set his sights on the Baltic states.
— Chloe Taylor
Ammonia leak at chemicals plant contained, authorities say
An ammonia leak at a chemicals plant in the city of Sumy has been contained, officials have said.
As of 7:49 a.m. local time, the ammonia emissions had been eliminated, Ukraine's Parliament said on the Telegram messaging app.
The update added that employees of the plant were working to restore its technological processes, and that emergency services had completed their work at the site.
The leak was reported at 4:30 a.m. local time, with authorities saying it had been caused by Russian shelling.
— Chloe Taylor
8 killed in Kyiv shelling, officials say
A shelling attack on Kyiv's Podil district on Sunday evening killed eight civilians, Ukraine's Prosecutor General's Office has said.
The office said Monday it launched an investigation into the shelling.
"Large-scale destruction and eight dead," the office said in a statement. "It is established that in the evening of March 20, 2022, the armed forces of the Russian Federation, using the means of warfare prohibited by international law, fired missiles at the Podil district of the capital."
The Prosecutor General's Office said that as a result of the shelling, which led to a fire, a shopping mall was destroyed and windows in nearby houses and parked cars had been damaged.
"According to preliminary data, eight people died," officials said. "Information on the dead and injured is being clarified. Rescuers and law enforcement officers are working on the scene to document the crime."
— Chloe Taylor
Ukraine opening 8 humanitarian corridors
Eight humanitarian corridors will be opened in Ukraine on Monday, Ukraine's Commissioner for Human Rights Liudmyla Denisova has said.
Evacuation routes will allow civilians to escape conflict raging in several locations across Ukraine, including the cities of Berdyansk and Mangush, and the villages of Mykilske, Melekine and Kozarovychi.
The corridors will also be used to deliver humanitarian aid to cities under siege.
— Chloe Taylor
Ukraine says Russia seizing food, goods to send back home
Ukraine's armed forces said Russian troops were "terrorizing" local populations and looting in occupied cities.
"The enemy exports home appliances, cars, food and other material resources to the Russian Federation," the update said.
Officials also accused Russia of ordering working-age men in the village of Stanychno-Luhansk to go to the local police department for registration on April 1.
"The reasons for this 'registration' are not explained, although it is connected with the next wave of mobilization to the 2nd Army Corps to be sent to the combat areas," Ukrainian officials said.
A spokesperson for the Russian government was not immediately available for comment when contacted by CNBC.
— Chloe Taylor
Ammonia leak reported at chemicals plant in northeastern Ukraine
There is an ammonia leak at a chemicals plant in the city of Sumy in northeastern Ukraine, according to its regional governor in an update on messaging app Telegram.
The affected area has a radius of about 5km around the plant, said Sumy regional governor Dmytro Zhyvytskyy.
Emergency crews are working on site, but there is no threat to Sumy city at the moment as the wind direction isn't toward the city, the update said. The leak was reported at 4:30 a.m. local time.
— Weizhen Tan
Mariupol rejects Russia's surrender ultimatum
The besieged city of Mariupol has rejected an ultimatum from Russia to surrender by 5 a.m. today, according to Ukrainian authorities.
Ukraine's Center for Strategic Communication said via Facebook early on Monday that Ukraine had rejected the demands from Moscow that Mayor of Mariupol Vadim Boychenko hand over the city by the deadline. It was unclear if the 5 a.m. cut-off was Mariupol time or Moscow time.
Russia had said it would open humanitarian corridors out of the city if Boychenko accepted the ultimatum.
Iryna Vereshchuk, Ukraine's deputy prime minister, told newspaper Pravda in the early hours of Monday morning that Russian authorities had sent an eight-page letter that outlined "a 'return to history' and other nonsense."
"They sent the same letter to the U.N., the International Committee of the Red Cross and hoped that international structures would react and begin to put pressure on Ukraine," Vereshchuk said, according to an NBC News translation.
Meanwhile, Russian state-controlled news agency RIA reported overnight that the Russian side would spare the lives of "all those who laid down their arms," citing Colonel-General Mikhail Mizintsev, head of the country's National Center for Defense Control.
"We call on units of the Armed Forces of Ukraine, territorial defense battalions, foreign mercenaries to stop hostilities, lay down their arms and enter the territories controlled by Kyiv along the humanitarian corridors agreed with the Ukrainian side," Mizintsev said at a briefing on Sunday, according to RIA.
"At the same time, all those who laid down their arms are guaranteed a safe exit from Mariupol and the preservation of life."
Mariupol is a key target in Russia's invasion of Ukraine as its capture could help Moscow create a land corridor to Crimea — a peninsula in the country's south that it invaded and annexed in 2014.
— Chloe Taylor
Shares of Russia's Rusal dive after alumina ban
The Hong Kong-listed shares of Rusal, a Russian aluminum producer, dropped by as much as 8.9% following an announcement by the Australian government that it would ban exports of alumina to Russia.
Several Australian ministries on Sunday jointly announced a ban on exports of alumina and aluminum ores including bauxite to Russia.
The ban is part of Australia's sanctions against Moscow for its invasion of Ukraine.
Last week, Canberra sanctioned two Russian oligarchs who have links to Australia's mining industry, Reuters reported. One was Oleg Deripaska, who holds a stake in Queensland Alumina, a joint venture between Rusal and Anglo-Australian mining company Rio Tinto.
The Sydney-traded shares of Rio Tinto edged higher on Monday.
— Ted Kemp
Read CNBC's previous live coverage here:
You can read Sunday's live coverage here:
More than 90% of Ukrainians believe their country will win the war; Zelenskyy warns of WWIII
Russian advances on Kyiv from the north-east have 'stalled,' says UK Defense Ministry
Russian forces advancing on the Ukrainian capital of Kyiv from the north-east have "stalled," according to the UK Defense Ministry's latest intelligence update.
"Heavy fighting continues north of Kyiv," the ministry said, adding that the city "remains Russia's primary military objective" despite a continued lack of progress.
"Forces advancing from the direction of Hostomel to the north-west have been repulsed by fierce Ukrainian resistance."
The bulk of Russia's forces remain more than 25 kilometers from the center of the city, according to the ministry.
— Eustance Huang
Copyright CNBC