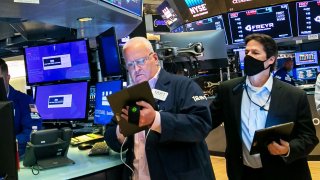 The 10-year U.S. Treasury yield rose on Thursday, having pulled back sharply in the previous session, despite a disappointing update on third-quarter gross domestic product.
The yield on the benchmark 10-year Treasury note added nearly 5 basis points, rising to 1.577% in midday trading. The yield on the 30-year Treasury bond rose more than 3 basis points to 1.975%. Yields move inversely to prices and 1 basis point is equal to 0.01%.
U.S. GDP increased 2.0% in the third quarter from a year prior, the Commerce Department reported Thursday. Economists polled by Dow Jones expected at 2.8% annualized expansion.
The move higher in the benchmark Treasury yield Thursday came after the 10-year rate fell back below the 1.6% mark in Wednesday's trading session to as low as 1.52%.
The bond market volatility has come as global central banks have begun taking different paths. The Bank of Canada announced on Wednesday that it would end its quantitative easing program sooner than expected. However, the European Central Bank said it will continue its asset purchases on Thursday.
"The last few weeks have seen the 'hawkish' global central banks making a lot of noise (BOE/BOC/ Reserve Bank of New Zealand) but the ECB and Fed (who are dovish compared to those) have been relatively quiet," Tom Essaye of the Sevens Report said in a note. "Point being, it's been a consistent drum beat of hawkishness while the 'doves' have been quiet. Well, that potentially changes starting today with the ECB."
Treasury yields have also fluctuated as investors remain concerned with the risk of "stagflation," where inflation rises but economic growth slows.
Dan Lacalle, chief economist at Tressis Gestion, told CNBC's "Squawk Box Europe" on Thursday that the risk of stagflation was increasing but it was not evident yet "because the expectations of growth remain relatively stable for 2022."
Nevertheless, Lacalle said the bond market was starting to react to the risk of stagflation.
— CNBC's Hannah Miao and Yun Li contributed to this market report.
Copyright CNBC