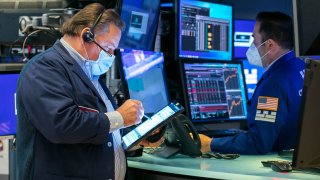 The 10-year U.S. Treasury slipped on Thursday as investors digested reports that show
The yield on the benchmark 10-year Treasury note was down more than 2 basis points to 1.7%. The yield on the 30-year Treasury bond fell roughly 3 basis points to 2.043%. Yields move inversely to prices and 1 basis point is equal to 0.01%.
The December producer price index, a gauge of inflation, showed a gain of 0.2% month over month, roughly half as much as expected. However, the year over year increase was an eye-popping 9.7%.
The consumer price index, released Wednesday, grew by 7% in the 12 months to December. On a monthly basis, CPI increased 0.5%. Economists expected the consumer price index to rise 0.4% in December, and 7% on a year-over-year basis, according to Dow Jones. 
Yields moved lower on Wednesday despite the hot CPI reading. The 10-year yield jumped sharply the previous week before pulling back slightly in the last two sessions, suggesting that high inflation numbers were already priced in to the market.
On the labor front, the number of jobless claims filed during the week ended Jan. 8 came in at 230,000. Economists polled by Dow Jones forecast that 200,000 people filed for unemployment. However, continuing unemployment claims declined.
"The data today looks a mixed bag on the face of it, with jobless claims coming in a little higher than expected, which may be down to seasonal adjustments. The overall trend remains positive and continues to point to a tight labor market," Craig Erlam, a senior market analyst at Oanda, said in a note to clients. "The PPI data on the other hand will be welcomed, with the headline number slipping to 0.2% month on month. Perhaps a sign of supply-side pressures finally starting to abate which will come as a relief after inflation hit a near-40 year high last month."
Meanwhile, Federal Reserve Governor Lael Brainard testified before the U.S. Senate for her nomination hearing to the role of the central bank's vice chair.
Auctions were held for $50 billion of 4-week bills, $40 billion of 8-week bills and $22 billion of 30-year bonds.
— CNBC's Maggie Fitzgerald contributed to this market report.
Copyright CNBC