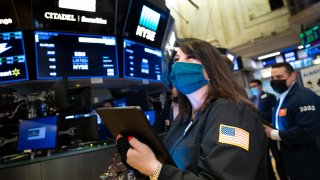 U.S. Treasury yields dipped slightly on Tuesday as investors digested Federal Reserve Chair Jerome Powell's bullish comments on economic recovery in a testimony to Congress.
The yield on the benchmark 10-year Treasury note dipped 1.5 basis points to 1.47% by 4:00 p.m. ET. The yield on the 30-year Treasury bond was less than a basis point lower at 2.097%. Yields move inversely to prices. One basis point is 0.01%.
Powell spoke before the House Select Subcommittee on Coronavirus Crisis on Tuesday afternoon.
"A number of things, we think, are weighing on labor supply right now and those are things that should be expected to abate and wane and go away over the course of the upcoming months," Powell said during the hearing. "We should be seeing our way to strong job creation, we think, as the year goes on."
The Fed chair also said factors pushing prices higher should retreat over time and that he expects inflation to fall back toward the central bank's longer-run goal.
In the prepared comments, which were released Monday evening ahead of the testimony, Powell said that while the "economy has shown sustained improvement," it still faces continued threats from the Covid-19 pandemic.
"Widespread vaccinations have joined unprecedented monetary and fiscal policy actions in providing strong support to the recovery," Powell said. "Indicators of economic activity and employment have continued to strengthen, and real GDP this year appears to be on track to post its fastest rate of increase in decades.
"Much of this rapid growth reflects the continued bounce back in activity from depressed levels," Powell said.
Powell's testimony follows the Fed's policy meeting last week, in which it raised inflation expectations and signaled an interest rate increase could happen sooner than expected.
Chris Watling, CEO of Longview Economics, told CNBC's "Squawk Box Europe" on Tuesday that the Fed had been "pretty resolute" about keeping monetary policy "looser for longer."
However, he said that a tightening of the labor market was "clearly a possible candidate" to "upset this applecart."
— CNBC's Jeff Cox contributed to this market report.
Copyright CNBCs - CNBC