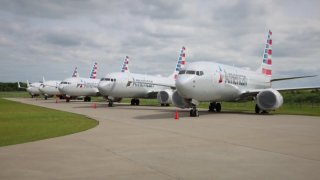 American Airlines plans to cut a large part of its workforce as the global aviation industry struggles to cope with a near-total halt to travel amid the COVID-19 pandemic.
The airline plans to cut its 17,000 management and support staff by 30%, or about 5,100 jobs. That could include layoffs in October if there aren't enough takers for a buyout offer.
Executive Vice President Elise Eberwein said in a memo to employees Wednesday night that nearly 39,000 other employees have signed up for partially paid leave or early retirement, and the airline has extended a buyout offer to administrative staff. Laid-off workers will be paid through Sept. 30 to comply with a no-furloughs provision attached to $5.8 billion in federal aid that American is getting to help cover payroll costs.
Aviation has been hard hit by the virus, as governments shut down travel to prevent the spread of COVID-19. Airlines are cutting jobs, going bankrupt and seeking bailouts, including Germany's Lufthansa, Latam Airlines and the major U.S. carriers. That is causing ripple effects throughout the industry, with planemaker Boeing and others slashing jobs as well.