What to Know
Build-a-Bear Workshop offered a sale for customers to pay their age for any animal in the store

The company said the promotion drew "unprecedented" and "extreme crowds, forcing it to close lines at US and Canadian stores

Social media posts showed workshops filled with customers and lines wrapped around stores and shopping centers
Build-a-Bear Workshop says they "could not have predicted" the reaction to Thursday's "Pay Your Age Day" event and will give vouchers to customers for a future purchase.

On Thursday, the company offered customers the chance to pay their age for any stuffable animal. The response was so overwhelming stores were forced to close lines at all U.S. and Canadian workshops as "extreme crowds" filled shopping centers and lines wrapped around stores and buildings.
Build-a-Bear Workshop Closes Lines for Pay Your Age Day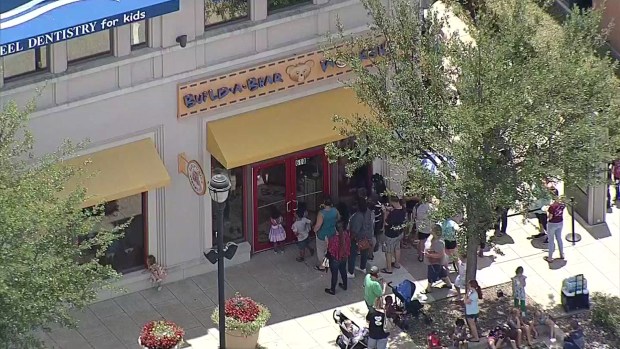 The company said in a statement on its website that the response to the company's first-of-its-kind sale "has been overwhelming and unprecedented in our 21-year history." It added that at the request of local authorities, new customers were not being accepted at stores over safety concerns.
"The crowds have greatly exceeded our expectations," Build-a-Bear said, adding that they are working to address the situation and reach out to affected customers.
**Urgent Alert:
Per local authorities, we cannot accept additional Guests at our locations due to crowd safety concerns. We have closed lines in our stores. We understand some Guests are disappointed and we will reach out directly as soon as possible. https://t.co/aSFfPCcfsGpic.twitter.com/WZJ53tOAEH

— Build-A-Bear Workshop (@buildabear) July 12, 2018
Thursday afternoon, the company issued another statement that said they distributed vouchers to guests present in line at stores and that they would make additional vouchers available to Bonus Club members who log into their account online by midnight July 15.
The vouchers will be honored through Aug. 31.
"It is our sincere desire for all of our Guests to enjoy the best Build-A-Bear experience possible. As such, our goal with the voucher extension is to enable us to better flow traffic to the stores over the next several weeks to avoid long lines and wait times as much as possible," the company said. "Therefore, we strongly encourage Guests to consider delaying their trip to Build-A-Bear, and we appreciate everyone's understanding and patience in this matter."
With kids and adults hoping to get a customizable animal for cheap, social media posts showed local workshops stuffed with eager customers and throngs of people spilling into the hallways of malls.
In North Texas, lines at Build-a-Bear locations in Garland, Arlington, Frisco, Fort Worth, Grapevine and Dallas were out the door.
Stores closed early after the last customer was helped.
Build-a-Bear Closes Lines on 'Pay Your Age Day'
The Otay Ranch Town Center in Chula Vista, California, posted Build-a-Bear's statement to its Facebook page and customers replied confused and upset.
"The store or the mall should give out vouchers for customers to return at a later date to obtain their bear. Seems a bit unfair, and both entities should have prepared for a response like this when offering this type of promotion," one Facebook user wrote on the post.
Police could be seen responding to the winding line at Orland Square Mall in Illinois, NBC Chicago reported.
The discount was also being offered at U.K. stores. Police said lines formed at a workshop in England "about a mile long," the BBC reported. Several stores closed for the rest of the day due to the crowds.
The sale allowed customers to choose any of the "furry friends" available at local workshops and pay their age number for it. The company said no one would pay more than $29 for a bear on the special date — regardless if the purchaser is in their 30's or older. Build-a-Bear required no identification or proof of age.
After Build-a-Bear Workshop offered customers the chance to pay their age for any stuffable animal, the company was forced to close its lines as "unprecedented" crowds filled shopping centers. https://t.co/LnbR9lXkrvpic.twitter.com/3oYIrseiez

— NBC Bay Area (@nbcbayarea) July 12, 2018
The day-long event was set to serve as a kickoff for a larger, year-round celebration of birthdays in which those 14 and under can receive a "Count Their Candles" invite. Kids can pay their age for a special bear during their birthday month.
"We have overwhelming data that indicates Build-A-Bear is synonymous with childhood, and nearly one-third of our sales are associated with birthdays," said president and chief executive officer of Build-A-Bear-Workshop Sharon Price John.
Wow. The Pay Your Age Day crowds at Build-A-Bear are huge.
Hundreds of people lined up OUTSIDE Valley Fair Mall in San Jose... pic.twitter.com/kLPL7upnsJ

— scott budman (@scottbudman) July 12, 2018