Dallas police say an off-duty officer fatally shot one of two men who died following a confrontation at a Walmart gas station early Wednesday morning.
Late Thursday afternoon, officers revealed an accomplice in the shooting turned himself in to police.
Investigators said Eduardo Alacron is now in custody for a parole violation.
According to Maj. Jeff Cotner, detectives had to investigate four separate crime scenes covering a large area near Central Expressway and Midpark Road.
Police said it started at about 12:40 a.m. when Sergio Ramos, 18, and another man tried to rob 25-year-old Joseph Roling outside of a Walmart gas station on the 10700 block of North Central Expressway.
Roling was shot and police said that's when he drove away and crashed into cars parked nearby.
Ramos, his accomplice and two women got in their car and followed Roling to that location where, according to police, Ramos was out of the car and reaching into Roling's vehicle when off-duty Dallas Police Officer Jose Gamez saw the collision and activity at the car.
Gamez, who just ended an off-duty shift working security at Walmart, approached the area. Police said that's when the accomplice and women drove away, leaving Ramos at Roling's vehicle.
Dallas police said Gamez followed the vehicle through the parking lot where they stopped before Midpark Road.
Dallas police said Gamez was unaware of the shooting when he identified himself as a police officer to the group. Police said one woman talked to Gamez, while the accomplice and the other woman began walking away and Ramos walked up.
Officer-Involved Shooting is Dallas' 16th of 2014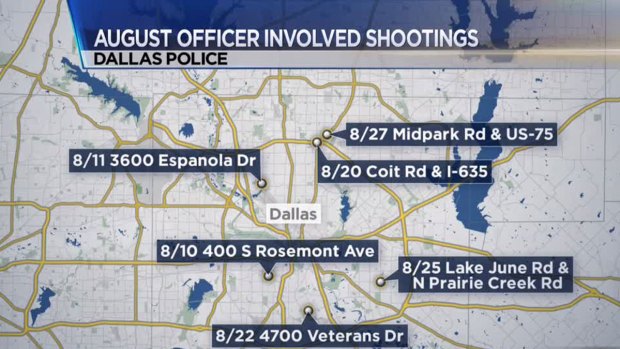 At that point, police said, Ramos got back into the vehicle and Gamez began to talk to him. Police said Gamez saw a gun poking out of Ramos' shorts pocket and told him not to touch the firearm. Gamez told detectives Ramos placed his hand on the gun and that's when police said Gamez fired several times.
"He noticed that one suspect was armed. The officer gave specific direction to the suspect regarding the firearm. The suspect then took an action that made the officer believe he was in imminent danger. The officer then discharged his weapon," Cotner said.
Cotner said Ramos then got back into the car and drove a short distance before crashing into parked cars outside a Denny's restaurant across Midpark Road. Ramos was pronounced dead at the scene.
Police said a gun was recovered from the vehicle and that several people were taken into custody to be interviewed. Cotner said video from the area is being reviewed.
Late Wednesday afternoon, Rolin's fiancé and sister returned to the area where their loved one was shot and killed.
They brought pictures and flowers and left them close to the gas station.
"I want everybody to remember him as a great father. I want everybody to remember him as a power, a man. He was just the world to everyone. He was the biggest universe with the biggest smile with the biggest personality," said fiancé Hope Lindsey.
Lindsey said Rolin had recently returned to school and was the father of two young children.
Police said the investigation into the shootings is ongoing and that the accomplice could face a capital murder charge.
At this point no other arrests have been made and no other suspects have been identified.
Gamez has been with the Dallas Police Department for five years and works in the northwest patrol division.
Six Officer-Involved Shootings in August
The officer-involved shooting is the sixth this month for the Dallas Police Department and the 16th this year. Of those 16 shootings, nine people were killed and four were injured. In the remaining three shootings, the officers fired and missed. The department reported 12 officer-involved shootings in 2013, 15 in 2012 and six in 2011.
A breakdown of the 13 shootings that resulted in death or injury are below:
Aug. 25 — Dallas police officers shot and killed Steven Douglas after he threatened domestic violence against the mother of his children and pointed a weapon at officers.
Aug. 22 — An off-duty Dallas officer shot Ladarius Campbell after witnessing Campbell shoot another person during a car-to-car argument. The officer was in plain clothes and in the area on personal business. Campbell survived his injuries.
Aug. 20 — Dallas police officers shot at Terence Michael Groessel after he displayed a weapon during a search of this truck. The Dallas County medical examiner ruled that Groessel died of a self-inflicted gunshot wound, but Dallas officers discharged their weapons in his direction.
Aug. 11 — Dallas officers shot and killed Jose Manuel Gonzalez after being called to a disturbance at a home on Espanola Drive after Gonzalez was threatening family members. Gonzalez refused to drop two knives concealed behind his back and, after repeated commands to surrender, Gonzalez raised one knife and continued toward the officer at which time the officer shot him to death.
Aug. 10 — An off-duty Dallas police officer shot and killed Andrew Scot Gaynier. He was reportedly acting strangely when he attempted to enter a family's vehicle outside Methodist Dallas Medical Center and was unarmed when he lunged at the off-duty officer who ordered him to stop.
July 17 — Dallas police officers were fired upon and returned fire while conducting a traffic stop. Neither suspect nor officers were injured and suspect Everardo Trevino was later arrested on two charges of aggravated assault on a public servant.
July 26 — Dallas police officers shot and killed Rodney Hodge after he was observed walking down the street and discharging a handgun. Officers observed Hodge point the weapon at onlookers and they shot him when he began walking at them.
June 14 — Dallas police officers shot and killed Jason Harrison. He was reportedly mentally disturbed and armed with a screwdriver. Harrison lunged at officers and was shot five times. His family was upset that he was also shot twice in the lower back.
June 14 — A Dallas police officer fired at a female suspect attempting to run over a male with her car. Suspect and officers not injured.
May 24 — A Dallas police officer shot at a man after a woman in a home on Belmont Avenue claimed to be being held against her will. The officer arrived on Belmont and was fired upon by the man from the front porch. The woman fled and the man retreated inside as the officer returned fire. The man was later dead inside the home from an apparent self-inflicted gunshot wound.
April 22 — Dallas police officers shot Michael Mayo after he attempted to run over officers questioning him about open air drug sales on M.D. Love Freeway. A chase ensued and officers eventually shot Mayo to death when he exited his car at Southwest Center Mall and pointed his weapon at officers.
April 4 — A uniformed off-duty Dallas police officer shot and killed 26-year-old Codi Ben Bullard after employees discovered him burglarizing property at 1220 S. Lamar Street. Bullard began to attack a male employee attempting to remove him from the property, officer who was across the street at the time heard the commotion and shot Bullard.
Feb. 15 — Dallas police officer Joshua Burns exchanged gunfire with Rakeem Perkins while investigating a disturbance call. Burns was wounded and taken to Baylor and survived. Perkins also survived and was turned in by family members.
NBC 5's Ellen Bryan, Frank Heinz, Julie Fine, Jeff Smith and Ken Kalthoff contributed to this report.
Published at 5:57 AM CDT on Aug 27, 2014 | Updated at 5:52 PM CDT on Aug 28, 2014