The first day of remote learning for Fort Worth ISD families and teachers has come and gone with both successes and hiccups, parents say.
Many teachers planned and trained for the big day as Fort Worth ISD headed back to school virtually on Tuesday. However early in the day, many parents and teachers reported connectivity issues and received an error message when students tried to log on.
Jason Kennemer is the father of three Fort Worth ISD students and said overall, the first day went as well as be expected for a new learning format.
"For the most part, it's gone well. There were some hiccups... trouble connecting, slowness, teachers cutting out in their Google meet sessions. I think that was bandwidth issues and everyone trying to get on at the same time," Kennemer said. "I don't know yet what to think about virtual learning for kids. I didn't think I'd be in this position, but here we are."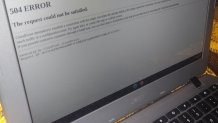 Fort Worth ISD said it was aware of the issue, posting the below tweet on Tuesday morning.
The district said it appeared Dallas ISD and Houston ISD had the same issues with the same vendor.
At 11 a.m. Tuesday, Fort Worth ISD also reported issues with the phone lines.
For now, district leaders in Fort Worth asked families for patience. Their Twitter account asked students to access Classlink by clicking here.
"I've got my fingers crossed and I'm just praying that it's going to go perfect but the start of school never goes perfect," Fort Worth Mayor Betsy Price said in an interview with NBC 5 before the school day began. "There's got to be a few glitches or it wouldn't be the first day of school."
Local
The latest news from around North Texas.
Connectivity issues aside, the district said it made sure that students had the hardware to get them through the next few weeks of virtual learning.
Fort Worth ISD spent months gathering and distributing tens of thousands of laptops and WiFi hotspots this summer.
That's an investment of more than $2 million made this year for families.
On Tuesday morning, Superintendent Kent Scribner shared his excitement for a first day of school, one that is certainly unlike any other.
"I, too, am a Fort Worth ISD parent so we're navigating this at our home as well," he said. "We want our students to get up bright and early to connect with our teachers. Today is about connection, about familiarizing themselves with their lessons."
Bill Landy is a history teacher at McLean Middle School. An 18-year veteran, he said he hoped the option for in-person instruction will eventually be offered.
"I asked my students when I ended the meets, I said 'One final question, how many of you would consider coming to school if that was an option?' The overwhelming amount of students raised their hands said if they had to wear a mask, they'd rather just wear a mask and take the precautions and they'd rather be in school," Landy said.
However, for now, he said teachers in his history department have prepared the best they can.
"We prepared to at least get this first week rolling. Then we will meet again at the end of the week to kind of talk about what went well these few days," he said. "We can't take what we did in the spring and say this is how it's going to be. I think teachers have had a lot more say in the preparing of what we want to do with our students this time, instead of having it given to us by the district."
Fort Worth ISD intends for in-person schooling to start on Oct. 5. Mayor Price said there's some strategy behind why that date was selected.
"I'm a firm believer of that kids need to be in front of a teacher and that they need to be with their friends. But we've got to do it safely," said Mayor Price. "We'll see after Labor Day what happens with these numbers. And that's why October 5 is important. It gives us a couple of weeks and an extra week of padding to get past that potential spike and see what happens from there."
Scribner said the ongoing decline in COVID-19 cases could result in some students coming back to campus sooner than that.
"If we continue to keep our COVID-19 numbers down, keep our masks on and social distance, and wash our hands -- if we can move out of the substantial spread that we're seeing here in Tarrant County and keep that declining -- we can come back to school perhaps even sooner than Oct. 5," he said.
Price said her office had been in close coordination and communication with the school district in the months leading up to the start of school. For example, the city has opened up community centers for students whose families cannot keep them at home.
"I think coordination with the schools has been really good. It's a big ordeal because this is a year unlike anything we've ever seen," she said. "I mean, who would've ever thought in 2020 we have masks on and no kids. But the school district has done a beautiful job of making it work with their new platform."
At the A.B. Christian Learning Center, executive director Loretta Burns said they opened two sites to help with remote learning. Each site has no more than 30 students, with 15 per classroom.
At the Martin Luther King Community Center in Fort Worth, there were no more than two students seated per table. The services are free to families, Burns said.
"We're targeting those with foster kids and grandparents raising kids who can't navigate technology. We are strategically targeting those families that need this service. Not just want it, but need this service," she said.
Fort Worth ISD will also still be addressing hunger needs for families.
The district said about 85% of its students live at or below the poverty level.
That's why meals-to-go services will be available at nearly all Fort Worth ISD campuses starting Tuesday and continuing for the next four weeks.
Twice weekly, on Mondays and Thursdays, students and parents may pick up a combination of hot and cold breakfast and lunch meals from 7-11 a.m. at any Fort Worth ISD school.
On Mondays, meals for the week's first three days will be distributed. To-go meals for Thursday, Friday, and Saturday will be distributed on Thursdays.