Though we're FAIR-ly sure what's on your calendar, there are plenty of other excited events in the area this weekend.
THURSDAY, 9/27
Dallas Video Fest: Celebrating their 25th year, the Dallas Video Fest returns to the Dallas Museum of Art with everything from short films to full-length documentaries -- including the opening night Ann Richards film that traces the history of the last Democrat to be Texas Governor and her impact on the political stage. The Fest runs through the weekend, so it's a good idea to check their official schedule to make sure you get to all the great flicks. NBC 5 is a media sponsor of this event.
Cirque du Soleil's "Kooza:" A giant tent behind Reunion Tower holds a mix between acrobatic performance and clowning around -- Cirque du Soleil's touring show "Kooza." We haven't seen a Cirque show that hasn't impressed us. The costumes, stunts, music, and overall atmosphere are definitely worth spending money and time on. Show runs through Oct. 28.
FRIDAY, 9/28
State Fair of Texas: It's here! The State Fair of Texas opens on Friday, and we may be a little too excited about the fried food, fun rides, and huge experiences in Fair Park. The annual Fair is one of our favorite events of the year -- and you can definitely tell by visiting our special section here -- and we'll be following the fun through the end of the Fair on Oct. 21. Need more info? Click here.
Frankie Valli and the Four Seasons: Singing legend Frankie Valli will play the Winspear Opera House for a 7 p.m. Friday night show. You know Frankie Valli, right? "Sherry," "Big Girls Don't Cry," "Oh, What A Night," "Grease," and others are the hits -- but there's more than enough recognizable songs to fill a show -- or even a Broadway musical (Jersey Boys).
SATURDAY, 9/29
Blake Shelton at Cattle Baron's Ball: The VIP, high-end event might not be as easily accessed at turning on "The Voice," but they do have something in common -- Blake Shelton. The country superstar will headline the entertainment at the annual Cattle Baron's Ball at Southfork Ranch in Parker. If you haven't already confirmed your spot, though...good luck. Click here for more info on how to attend. NBC 5 is a media sponsor of this event.
Haunted Houses: Can you believe that October is just around the corner? That means scares are coming. While our Halloween section really gets up and running on Oct. 1, we've pulled together some of the best haunted attractions in North Texas into a handy article that should help you decide where to be scared. Many of those locations are opening in this last week of September, so start planning your haunted outings!
SUNDAY, 9/30
Florence and the Machine: That powerful voice behind "Dog Days Are Over," "What the Water Gave Me," and "Shake It Out," is headed to Gexa Energy Pavilion on Sunday for a 7 p.m. show. Enjoy.
---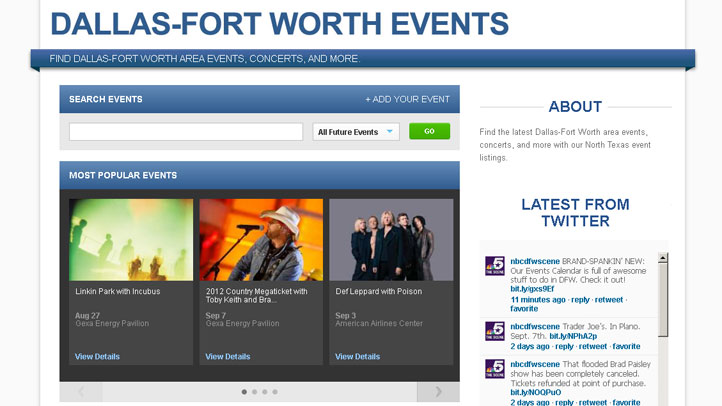 What You're Doing This Weekend:
Find the latest Dallas-Fort Worth area events, concerts, and more with our North Texas event listings. Click here for more.