Soapbox-racing, grape-stomping, indie-rocking and more are on the plan for this weekend.
THURSDAY, 9/13
War Horse: See the show that the movie is based on -- and realize how they got it so wrong by using real horses in the flick. On stage, the horses are puppet contraptions that interact with life-like movements along with the other characters on stage. It's definitely worth catching at the Winspear Opera House at 8 p.m. on Thursday, or during one of their other dates.
Adam Carolla: Comedian Adam Carolla heads to the Majestic Theatre for an 8 p.m. Thursday showcase of laughs. Though Man Show co-host Jimmy Kimmel might be more visible to most audiences, Carolla's hilarious and successful podcast has definitely proved his career longevity.
FRIDAY, 9/14
Passion Pit: Indie-rocking, electropopping Passion Pit won't be doing their Friday night show at live music staples like Granada or Palladium Ballroom. Instead, they're taking their talents to Arlington to perform at the College Park Center at UTA at 8 p.m. Besides hosting UTA Mavericks basketball games, the recently constructed center has also got concerts from Toby Mac and Flo Rida on the schedule. Sounds like they've got a "Good Feeling" about the place. (#eventpuns)
SATURDAY, 9/15
Red Bull Soapbox Derby: Talk about your "wheels off" events -- Red Bull is hosting a soapbox derby (just like The Little Rascals, ya'll) at Austin Ranch in The Colony. Drivers have already been chosen to pilot the 44 unique crafts picked by the energy drink company to roll down the course. Whether crafts shaped like giant blocks of cheese or skateboards will actually cross the finish line remains to be seen. We covered the race in some more detail here.
Train: Maybe you're a "Calling all Angels" fan, or maybe "Drops of Jupiter" is more your style. Possibly you didn't even get into Train until "Hey Soul Sister." We'd hazard a guess that all of those (and more) will be played at their 7 p.m. show at Verizon Theatre in Grand Prairie on Saturday.
SUNDAY, 9/16
Grapefest: Grapevine's wine and dine extravaganza runs throughout the weekend, starting on Thursday evening and ending strong on Sunday. They'll have wine sampling, food stands, carnival rides, artists and other vendors, plus the ever-popular grape stomp. Tickets into the fest are $8 for adults and $5 for seniors and children 6 to 12. Additional tickets are required for some of the sampling options. Click here to head to their official website that has all the details.
FREE TICKETS! Yep, we're giving away free tickets to see "The Addams Family" when it comes to the Music Hall in Fair Park in October. Click here to enter the sweepstakes before 9/16.
---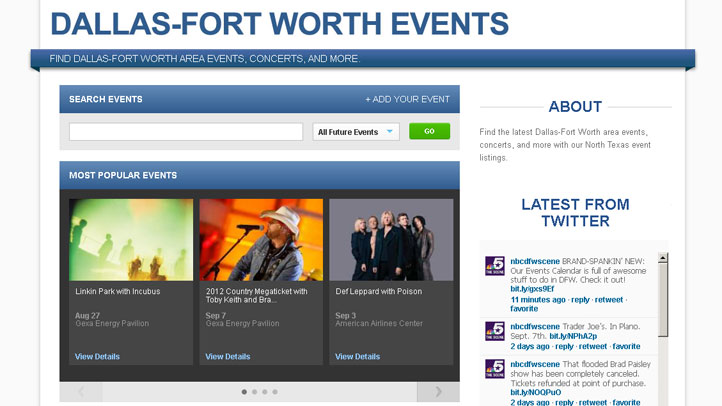 What You're Doing This Weekend:
Find the latest Dallas-Fort Worth area events, concerts, and more with our North Texas event listings. Click here for more.