Fun on ICE, Potter power, start of shopping season, and film fest flicks.
THURSDAY, 11/8
Lone Star Film Festival: The annual salute to Texas films ran the first reel of their five-day festival on Nov. 7, but the event will continue to screen flicks through Sunday. So why is this listed for Thursday? Three words -- Billy Bob Thornton. The actor and director will be part of "A Conversation with Billy Bob Thornton" (naturally) starting at 3:30 p.m. on Thursday. Luckily for those of us who have to stay at the office, there's another big LSFF event, the festival ball, scheduled for 6 p.m. Just want to see some movies? The fest is screening "A Place at the Table" at 6:30 p.m., "A Royal Affair" at 9 p.m., and "Miami Connection" at 9:30 p.m. Ticket info, screening locations, and a full rundown of the whole event schedule is available at their official site.
FRIDAY, 11/9
Dallas Sample Sale: Get a jump on holiday shopping with the Dallas Sample Sale, which lets the general public in for FREE from 10 a.m. to 7 p.m. Friday. The Sample Sale offers something for everyone including: gifts, jewelry, toys, children's clothing, home accessories, furniture and manufacturer samples at unbelievably low prices, making it perfect for early bird Xmas shopping. If you're in the gift giving mood, they've got something there as well -- that's where the Salvation Army will start their Angel Tree program. By the way, NBC 5 is a media sponsor for this event.
SATURDAY, 11/10
Grace Potter and the Nocturnals: Man, that voice. Pull up your Spotify and slide Grace Potter and the Nocturnals on a playlist to hear what we're talking about. Then, snag some tickets to Saturday night's concert at the House of Blues in Dallas. Our friends who saw the band in L.A. just a few days ago said the live power of Potter's vocals are reason enough to be in the building. Show is scheduled to start at 9 p.m.
SUNDAY, 11/11
"ICE!" at Gaylord Texan: It's not that cold outside (yet), but at the Gaylord Texan, it's freezing. The resort is running their "ICE!" show from Nov. 8, 2012 through Jan. 1, 2013. For the uninitiated, "ICE!" uses literally thousands of pounds of ice and a number of artisans to create amazingly cool frozen sculptures. This year the theme is Dreamworks' "Merry Madagascar," and we got a sneak peek at the works of art before they threw open the doors to the public (click here for the slide show). From our experience, the weekends get more and more crowded as you get closer to the holiday season, so take advantage of their long run this year and schedule your visit early. Click here for ticket info and more details.
---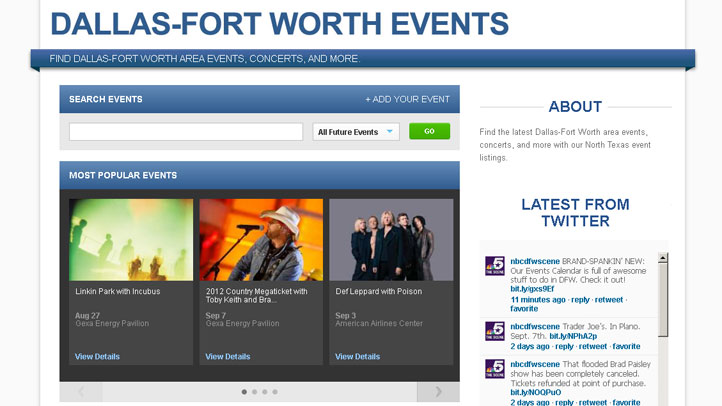 What You're Doing This Weekend:
Find the latest Dallas-Fort Worth area events, concerts, and more with our North Texas event listings. Click here for more.