A variety of music and the push toward the scariest day of the year.
THURSDAY, 10/25
The Temper Trap: First off, a hip-hip hooray that the Ridglea Theater is back in action after a long, drawn out ownership/renovation/bankruptcy/foreclosure thing. Their first big show after last weekend's coming out party is Australia's The Temper Trap, who made you fall into love with JGL and Zooey in "500 Days of Summer." Snag your tickets fast for the 8 p.m. show.
FRIDAY, 10/26
Gwar with DevilDriver, Cancer Bats, and more: GWAR is pretty darn weird, ya'll. They've got a (fictional) backstory that reads like a fantasy horror novel, are constantly dressed like they're going to Comic-Con, and mix some of the heaviest metal around with lots of blood, obscenities, and debauchery. In short, a GWAR show is an experience. And it's perfect for the weekend before Halloween! Head to the House of Blues for the bloody show starting at 7:30 p.m.
SATURDAY, 10/27
Jason Aldean: Country fans know Aldean's name, and if they've already bought a 2012 County Megaticket, they're already in to the Saturday night 7 p.m. show at Gexa Energy Pavilion. If you're not familiar with Aldean, maybe you'd like to know that he raps on some of his records. That's right, country rap.
Deck Park Opens: Klyde Warren Deck Park over Woodall Rodgers Freeway in Dallas is now officially open and ready for you to visit. There are some free daytime activities on Oct. 27-28 and a big concert featuring The Polyphonic Spree, Trombone Shorty and Orleans Avenue, plus DJ Lucy Wrubel at 7 p.m. on Saturday. Unfortunately, the free tickets sold out lickety split, but they do have some reserved section seats left (as of this publication, of course). Check out their official site for the full schedule of what to do.
ALL WEEKEND
Halloween Events: We've got a plethora of Halloween-inspired events listed in this article -- Click here, haunters -- that run up from Thursday through Oct. 31 itself.
Haunted Houses: Additionally, we've pulled together a listing of lots of local haunted attractions to scare you out of your gourds on this last weekend before Halloween. Click here for those.
---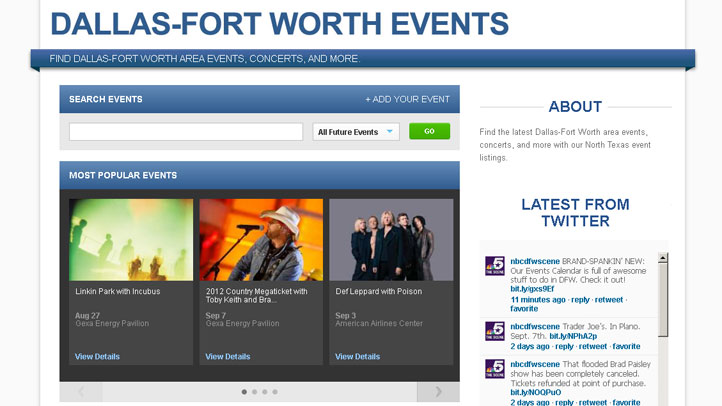 What You're Doing This Weekend:
Find the latest Dallas-Fort Worth area events, concerts, and more with our North Texas event listings. Click here for more.