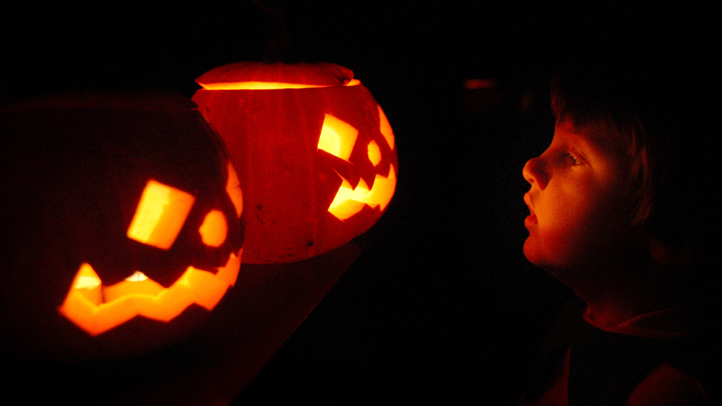 It's that time of the year again where everyone dresses as terrifying (or ridiculous) as possible and takes to the streets for a hauntingly fun night of Halloween celebrations. Here's a what, when, and where of Halloween festivities that's sure to scare up a good time.
Dallas | Tarrant | Collin | Hood
Costume Art Ball "SideShow"
8 p.m. Saturday, October 22
The Costume Art Ball is an annual fundraiser costume party put on by the Creative Arts Center of Dallas. Each year the CAC comes up with a creative theme with food, drinks, music, games and a costume competition. This year's theme is "SideShow", so get your freak on, and come join the party! In order to attend you must be in a full costume, (no costume over a PG-13 rating), and you must be at least 21 years of age.
Official Site
Highland Park High Annual Halloween Concert
7 p.m., Tuesday, October 25, 2011 at Northpark Center
Orchestra students from Highland Park High School under the direction of Peggy Weaver and Highland Park Middle School under the direction of Ted Grille will create spooky Halloween music while in costumes! The concert will take place in NorthCourt, located between Nordstrom and Macy's.
Official Site
4th Annual Rock the Red Door Totally 80s Halloween Bash
8 to 11 p.m. Thursday, October 27 at the House of Blues
Dust off your lycra leggings or parachute pants and prepare to relive the 80s. Party to the max in support of Cancer Support Community North Texas with its Young Leadership Board and other young professionals at the 4th Annual Rock the Red Door Halloween Bash at the House of Blues. The party will feature wicked tunes courtesy of The Spazmatics, righteous food and drinks, a totally rad fortune teller, photo booths and super fresh raffle and silent auction items.
Official Site
Halloween Nights at the Dallas Zoo
October 27-29, 2011 at the Dallas Zoo
The gates of the Dallas Zoo creep open for a special evening celebration that will get the ghouls and boys "howling" with laughter. The Zoo closes at 4 p.m. and reopens at 5 p.m. Dress the kids in costumes for this not-so-scary event. Meet Zoohilda and her wacky sisters; travel to the neighborhood of storybook characters; catch the stage show on Cat Green; find serpents, newts, and toads in the reptile building; and trick-or-treat around ZooNorth and the Lacerte Family Children's Zoo. End the night with a backward spin on the Haunted Carousel.
Official Site

Amber Does Dallas Presents: The Rocky Horror Picture Show
11 p.m. Friday, October 28, 2011
Experience the immortal, immoral cult classic phenomena as presented by Amber Does Dallas: DFW's Premier Shadowcast. Enjoy a drink at the Arcade Bar or take it into the historic Lakewood Theater as you enjoy the finest in live entertainment. Tickets are $11.
Official Site
Ghost Tales at the Bath House
7 to 9 p.m. Friday, October 28
The Dallas Storytelling Guild returns to the White Rock Lake Bath House for two evenings of ghoulish Halloween Ghost Stories on Oct. 28 and 29. Not for the faint-of-heart or pre-teens. Admission is $5 at the door.
Official Site
Irving Fall Carnival
6:30 to 8:30 p.m. Friday, October 28, 2011 at Northwest Park Recreation Center
This annual fall carnival features games, prizes and loads of fun for everyone. In addition, there will be a Halloween costume contest for kids ages 11 and younger. Admission to the carnival is free, but tickets are needed to play games and purchase food. Tickets will be on sale during the event for $0.25 each or five for $1. Open to the entire family.
Official Site
Oak Lawn Halloween 2011
Saturday, October 29, 2011
A costume frenzy will take to the streets again this year at the annual Halloween Block Party, located in the 3900 block of Cedar Springs and Throckmorton in Dallas' gay scene. Costume contests, dancing and special events at area bars and clubs will be in full swing at this year's celebration.
Official Site
Movie on the Lawn: Movie Magic
6 to 9 p.m. Saturday, October 29
Embark on a magical night featuring short films by the legendary "cinemagician" Georges Méliès. Parisian film maker Méliès is considered the father of special effects. Fun fall activities featuring Victorian Halloween traditions and a live magic show begin at 6 p.m. Movies begin at dusk. Bring lawn chairs or a blanket for seating.
Official Site
Amber Does Dallas Presents: Halloween Science Fiction Double Feature: Rocky Horror Picture Show & Repo! The Genetic Opera!
9 p.m. Saturday, October 29, 2011
Come for a night at The Opera and stay for The Picture Show as Amber Does Dallas: DFW's Premier Shadowcast presents a true Science Fiction Double Feature of both The Rocky Horror Picture Show and Repo! The Genetic Opera. It's two great shows for once low price! Tickets are $13.
Official Site
A Shadowcast Rocky Horror Picture Show
12 a.m. October 29 (Friday night) at Inwood Theater in Dallas
The Inwood Theater and Los Bastardos present a Science-Fiction Feature just in time for Halloween with a Dallas performance of the Rocky Horror Picture Show. For more than 13 years the Los Bastardos shadowcast has been thrilling audiences with their one-of-a-kind performances of the Rocky Horror Picture Show. After a six year Fort Worth engagement, Los Bastardos makes their long-awaited return to Dallas for that most important of holidays: Halloween! Under 18 must be admitted with an adult. Tickets are $10.
Official Site

Night of the Demons (1988) Film Screening
10 p.m. Saturday, October 29, 2011 at Texas Theatre
Kevin Tenney's 1988 Halloween Party Classic "Night of the Demons" will play in all of its original 35mm glory. Sponsored by DOA Blood Bath Entertainment, the event will also feature a Q&A and autograph session with Kevin Tenney.
Official Site
Fall Block Party: One Arts Plaza
12 to 4 p.m. Sunday, October 30, 2011 at One Arts Plaza in Dallas
One Arts Plaza will host its 2nd annual Fall Block Party with live music and specialty food and drink demonstrations from foodie favorites Tei-An, The Commissary, Screen Door, Fedora and Jorge's. Activities like face painting and a variety of food and drink samples from local favorites including Ben E. Keith beer and John McClung Hasty Bake Grills. SPCA of Texas will be on-site and dog owners can bring their canine friends out for the dog Halloween costume contest!
Official Site

Boo at the Zoo
12 to 5 p.m. October 21-23 and 28-30, 2011 at the Fort Worth Zoo
Twenty years and counting, the annual Halloween celebration at the zoo is back by popular demand! The day-time hours allow the Boo at the Zoo attendees to see the rest of the zoo as well. You can expect Halloween-themed activities and animal exhibits that the whole family will enjoy. This is a Fort Worth favorite that you don't want to miss!
Official Site
Haunted Trails
7 to 9:30 p.m. Saturday, October 22, 2011 at Big Bear Creek Greenbelt in Keller
As night falls on Keller, the trails are sure to become haunted. Groups will head down the haunted Bear Creek Park Greenbelt from The Keller Pointe to encounter a variety of Scare Stations along the way. After wards groups will be brought back to the parking area on hayrides.
Official Site
Treat Street
6 to 8 p.m. Monday, October 31, 2011 at the Fort Worth Stockyards
Join Stockyards Station and RADIO DISNEY for a safe, family-friendly Halloween Party in the Historic Fort Worth Stockyards that's free and fun! Trick-or-treat at the Stockyard Station shops and join in on the hayrides, costume contest, pumpkin decorating, games, prizes and more.
Official Site
Halloween at the Heard
6 p.m. Saturday, October 22, 2011 at the Heard Natural Science Museum & Wildlife Sanctuary in McKinney
Kids will have the chance to trick-or-treat along the Dinosaurs Live! exhibit trail featuring life-size animatronic dinosaurs, participate in a costume contest and see a family-friendly movie, at the Heard outdoor amphitheater. Plan ahead - tickets sell out quickly each year!
Official Site
Halloween Hike
7 p.m. Thursday, October 27, 2011 at the Oak Point Park and Nature Preserve in Plano
As Halloween nears come to Oak Point Park to the hear the spooky sounds and noises of a fall evening. We will have 'witches brew' and treats. Price to attend is $4 and everyone attending must register.
Official Site
Murder and Mayhem: True Crimes of Collin County
7 p.m. Friday, October 28 at the Heritage Farmstead Museum in Plano
Visit the historic Heritage Farmstead Museum in Plano for a night of true crime tales about outlaws, murders, massacres, and much more. A guide will lead your group by lantern light from station to station as professional storytellers relay the darker the side of Collin County's history. The evening ends with the reenactment of a murder trial featuring the museum's own scandalous patriarch Hunter Farrell.
Official Site
2011 Scare on the Square
4 to 6 p.m. Monday, October 31, 2011 at the McKinney Historic Downtown Square
On Halloween evening, enjoy the sights of hundreds of ghosts and goblins young and old in Historic Downtown McKinney. This annual event has grown to hundreds of trick or treaters enjoying treats and interactive activities to celebrate a safe, secure family fun Halloween event. Historic Downtown McKinney is closed off for trick or treaters to cross the streets safely, going shop to shop for goodies.
Official Site
Granbury Ghosts & Legends Tour
7 p.m. and 9:15 p.m. every Friday and Saturday
Spend a spooky evening with ghost stories and legends of historic Granbury, located southwest of Fort Worth. There are two tours on each night, weather permitting. Tickets are $10 per person and $7 for children 12 years of age and under. For reservations, contact 817-559-0849.
Official Site
The Last Mile Cemetery Tour
4 p.m. and 11 p.m. every Saturday
Ride the city trolley down to Granbury's historic cemetery for a one hour guided walking tour. See the grave of Jesse James, Gen. Granbury and the founding mothers and fathers of Granbury. Cost is $10 per person.Call 817-559-0849 or email GranburyGhosts@gmail.com for reservations or more information.
This information was gathered from event listings on the websites for each event. Have a scary spot we missed? Send us an e-mail here.