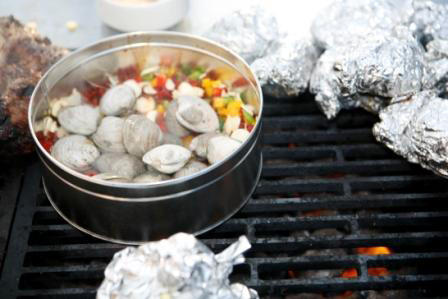 Thousands of people have taken their appetites to Fair Park for the Taste of Dallas. The event is celebrating 25 years this year.
Among the dozens of cooking demonstrations is Chef Charles Michael of Dallas, who lost more than 100 pounds after learning how to cook healthier. He's helped a few kids lose up to 80 pounds. Michael founded EatTheRightFoods.com to teach others.
Fresh fruits and vegetables usually are not the most appealing foods to kids or even adults.
"If you just give someone a carrot, it's kind of boring, but if we can make a carrot into a cricket or make it into a dragonfly and maybe put it with some fat-free ranch dressing, it now becomes something fun," said Michael. "If you can get your kids to do this, chances are then they'll eat it."
Two of his chefs in training are showing other kids they, too, can cook their own meals, starting with a simple spring roll. Denise Chanthavong, 17, and her sister Crystal, 11, of Grand Prairie, also did cooking demos on the stage.
"You should watch what you eat, because if you eat too much of the bad stuff, then it'll start to show, and it won't look good in the future," said Denise.
Parents in the audience watched and learned.
"There's some good tricks, especially for younger kids, you know, that might entice them to try something that they might not normally try," said Deena Killingsworth, a mother of three from Rowlett.
Michael says the key to preventing childhood obesity is to get kids on the healthy path early.
"Twenty to 30 percent of our children are already obese. And it has something to do with what the parents are feeding them," said Michael.
The Taste of Dallas wraps up at 11 p.m. Saturday and continues Sunday from 11 a.m. to 6 p.m. at Fair Park. NBC 5 is a proud sponsor of the annual event. Click here for more information.