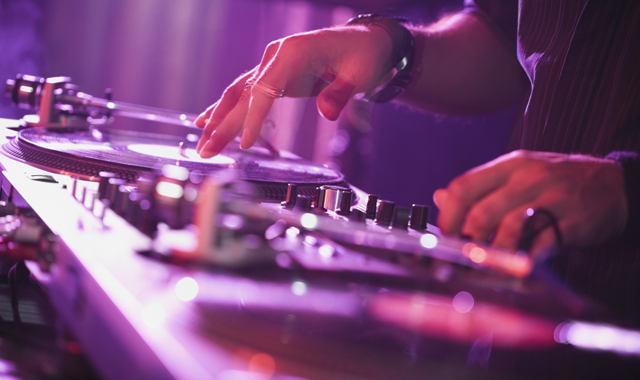 Suite may have shuttered, but the upscale nightlife equation still has Wish, Clear, and Mantus "ultra-lounges" to balance itself. Maybe that's why we're not thrilled to the gills about "Thrive," a new Las Vegas styled nightclub set to open this September in the Downtown Dallas Crowne Plaza.
There's lot of talk in the press release about "custom designed" booths and dance floor, swanky lighting, metallic wall coverings, and a supposedly "never-been-seen" French ceiling concept that stretches vinyl over the ceiling and creates designs and visual effects using molds.
Final judgment will be rendered when we see the inside of the place on a cold December night whilst sipping a "house-crafted" cocktail we picked up from the circular glass encased bar. Or maybe we'll just believe whatever the press release says.
Oh, and they're supposed to open a "plush yet approachable dining destination" called Ten15 Elm, too. (Creative name, huh? Guess where the Crowne Plaza is located...HINT: It's 1015 Elm Street) No word on a menu style, just "simple, well-executed dishes by local Dallas Chef Brian Litolff" (who?).
Read the full, gushing, information on what Mr. Dallas (sarcastically) thinks is the "greatest place ever," below:
High-end design and sensual opulence return to nightlife in downtown Dallas this fall. Thrive, a Las Vegas style nightclub, and Ten15 Elm restaurant will be in the new 20,000-square-foot edition [sic] to the Downtown Dallas Crowne Plaza Hotel set to open this September at 1015 Elm Street. This multimillion-dollar renovation was envisioned by the owner of TOG Hotel Properties, Terry Tognazzini, and Charles Doell of Mister Important Design, renowned nightclub designer in San Francisco and Las Vegas.

The new edition of the Downtown Dallas Crowne Plaza Hotel will be transformed into a celebration of cutting edge style and luxury. Setting the new standard for Dallas' nightlife experience, Thrive will offer unrivaled service in a high-energy atmosphere with state-of-the art lighting, elaborate metallic wall coverings and a never-been-seen French ceiling. The French ceiling is a new concept from Europe that is created from stretching reflective vinyl over the ceiling and using molds to create stunning designs and visual effects.

Perched behind the bar, local and celebrity DJs will spin the hottest sounds above the crowd. Guests will dance the night away on Thrive's custom dance floor while VIPs enjoy house-crafted cocktails and bottle service custom designed booths. Catering to a discerning audience with higher sensibilities, Thrive will offer all the VIP luxuries including a private lounge area enclosed with black one-way glass so patrons inside can enjoy the view of the room and a secluded space.

Setting Thrive apart from the traditional multi-room cavernous dance clubs guests can flow from nightclub to restaurant via a chic glass encased circular bar. Illuminated by a state-of-the-art LED system guests can grab a quick drink or wait to be seated for dinner surrounded by 360 degrees of innovative style and handmade cocktails.

Upon entering restaurant Ten15 Elm restaurant patrons will be greeted with an intimate atmosphere surrounded by a rich color scheme and intricate light installations. The walls dripping with lush red wall coverings offer the perfect backdrop for every dining occasion. Ten15 Elm is a plush yet approachable dining destination that will offer simple well-executed dishes created by local Dallas Chef Brian Litolff.

Patricia and Terry Tognazzini bought the old West End Hotel in June 2007. The former hotel had 309 units with 486 parking and an attached 10,000-square-foot theater. The new Downtown Dallas Crowne Plaza offers 300 rooms, including 5 suites, all remodeled with chic décor and luxurious upgrades. Tognazzini converted the former theater space into Thrive nightclub and Ten15 Elm. Tognazzini also added a 10,000 square foot ballroom and conference center that will host the Dallas Grand ballroom and a plaza level 12,000 square foot banquet hall and meeting center that will boast the Founders Ballroom. Featuring luxurious color schemes and modern accents the Downtown Dallas Crowne Plaza's ballrooms are fresh, offering a savvy location for events.

Owners of TOG Hotel Properties, Patricia and Terry Tognazzini currently have 11 hotels, three located in the DFW area including the new Downtown Dallas Crowne Plaza. Terry Tognazzini has spent decades in the hotel and resort industry and has an extensive background in advertising, public relations, and marketing for the hospitality industry.