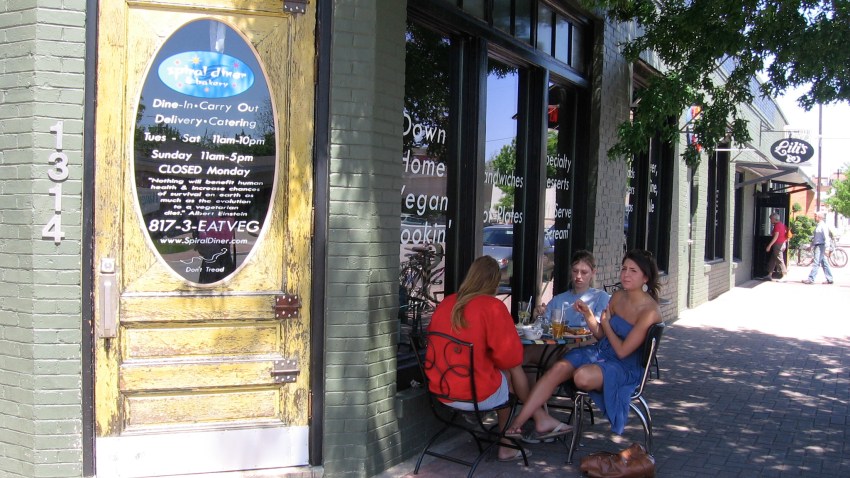 On a recent December evening, my wife, our friend and I toured homes at Candlelight Christmas in Ryan Place. Walking through the charming, historic neighborhood in the cool air, we worked up an appetite. We left the neighborhood and drove towards downtown, without a restaurant in mind. I turned onto Magnolia to give the locales there some consideration.
We quickly came upon Spiral Diner. A novice vegetarian friend at work recommended the vegan eatery not long ago. My wife's aunt, a strict vegetarian for years, likes to eat there when she is in town. None of us in the car at the time held any vegetarian habits or ideals, nor were we aware of what a vegan restaurant might serve that would appeal to carnivores. At the same time, we are not the sort to demand meat and potatoes at every meal. Intrigued, we decided to give it a whirl.
The atmosphere at Spiral Diner is decidedly more Austin than Fort Worth. The décor is simple and non-traditional. There is a soda machine, though none of the varieties were recognizable to me. We each selected iced tea, a healthier-than-usual version, I am sure. The tables offered none of the familiar pink, blue or yellow packets. Undoubtedly steering clear of the more questionable chemicals, this diner features a stevia sweetener. The menu proudly proclaims the restaurant's views on organic ingredients, environmental concerns and charging enough to provide good food at a fair price, while paying the employees a reasonable wage. Already, I was feeling somewhat enlightened and health conscious, and we hadn't taken our first bite of food.
We agreed to order different items and share, so we could maximize taste testing on our foray into vegan dining. But, first, an appetizer. Sticking to the familiar for starters, we opted for chips and salsa. The chips tasted like the usual fare. The salsa was fresh and slightly citrus, likely enhanced by the lime quarter resting in the cup. Free refills are not offered, so we paid for a second round. Old habits die hard.
The Mediterranean Wrap features hummus and various vegetables. Crisp and cool. Tasty, but there was nothing particularly unusual about it. It was basically a salad wrapped in a tortilla, not that there's anything wrong with that.
The Hot Hummus Wrap offers hummus (duh), grilled vegetables and miscellaneous other ingredients. Tangy and good. It was unique, more like what we were hoping for. We liked it.
The "Ate" Layer Burrito was my favorite, hands down. Mexican quinoa, black beans, diced red onion, avocado, corn, black olives, sour cream and chipotle mayo worked harmoniously to back up the "taco meat." At the vegan place, "taco meat" is tofu, ground up and cooked with Mexican spices. It was delicious. Suitably spicy. And, with no animal fat, there was no dribbling grease. Quite frankly, I liked this burrito better than I would have had it been made with beef.
With pleasant employees and a clean and friendly atmosphere, we all agreed that Spiral Diner was a good choice. I'm sure I will return.
Spiral Diner is located at 1314 W. Magnolia in Fort Worth, or 1101 N. Beckley in Dallas. Visit www.spiraldiner.com for directions and menu selections.