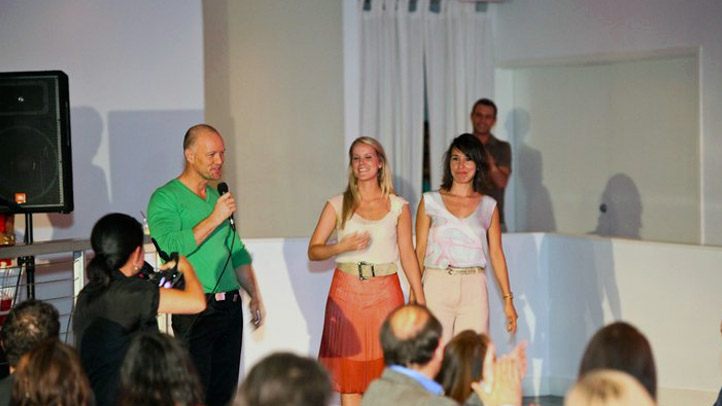 We don't usually tout our own accomplishments, but when we predicted that Varela + Brooks would rise to the top of the competition for Texas' Next Top Designer - we were practically prescient. The cool label, from Dallas girls Isabel Varela and Ashlee Brooks, placed second in this year's contest, and their sartorial clothing was the talk of the event.
We caught up with the team behind the line recently to hear about their plans post-victory. Find out who's inspiring them now and what they'll remember most about the experience.
Let's talk teamwork. How do your strengths as designers compliment each other?
"Well to start off, we are like the yin and yang. We feed off of each others energies. When designing, Ashlee is more classic and feminine while Isabel is more structured and androgynous. Ashlee strengths are in pattern-making while Isabel's strengths are in draping. Together we bring avant-garde details to classic silhouettes."
How did you all react similarly or differently to your second place win at TNTD?
"We are extremely excited. This is the first year that they have even announced the 'runner-up' position. We are grateful for the recognition. We have received a overwhelming amount of support."
What was the highlight of the the competition for you two?
"Learning of all the support we had and receiving great feedback from all the judges."
What are your plans post-win for Varela + Brooks? Thoughts for Fall?
"We are working to connecting with more boutiques and bringing on a wholesale representative. And we're also focused on putting together some events! Our Spring 2012 is in the works, and we'll be excited to debut that collection in Dallas this Fall."
What Dallasite would you be the most excited to dress?
"Amy Vanderoef and Pat Smith!"
Where can we shop Varela + Brooks right this second?
"As of right now you can purchase our clothes directly through us. Next week we will have a shopping cart online, and for Fall, we will be in Lilli London and possibly two other stores in New Orleans!"
Connect with Varela + Brooks online through their website and Facebook page, and we recommend you shop the looks you love asap. They don't tend to last long, as Dallas' fashionable set is snapping them up at a record pace.
Copyright FREEL - NBC Local Media