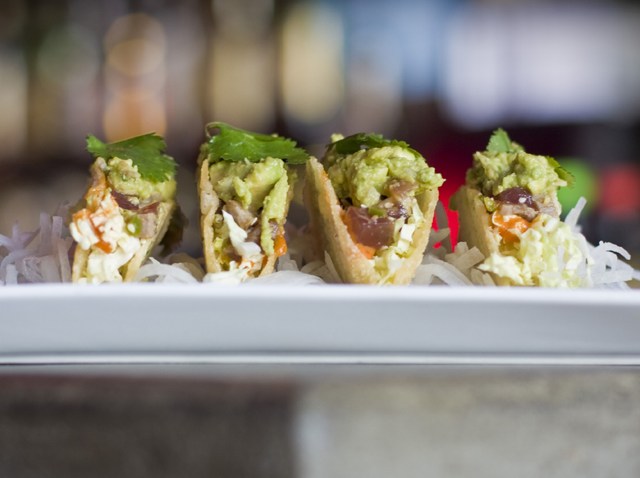 Blue Sushi Sake Grill isn't one of those restaurants with a templelike calm.
It's a chic sushi bar where guests sip sake and snarf specialty nigiri with names like "Dragon Ballz" and "Itchy Salmon" while Godzilla flicks show on the bar's movie screen.
Located in the ground floor of the Museum Place Flatiron Building at the big intersection of 7th, University, Camp Bowie, and Bailey, its modern look is something to see … especially at night.
Diner David Kennedy was driving by when he says he was drawn to Blue Sushi.
"It was hard not to notice, so we decided to have dinner here because it's unlike anything else in the area," said Kennedy between bites of his Tidal Wave (shrimp tempura, crab tempura, cream cheese, sweet wasabi and eel sauce) maki roll.
See a mouth watering gallery of bits and bites here.
Blue is equal parts swanky lounge and exceptional sushi den where chefs sculpt fish into edible still-lifes garnished with fuschia orchid flowers.
The scene and the noise relegate the dishes almost to the level of decoration -- almost.
"I love the atmosphere. It's my first time here and he's treating me since he claimed this was the best sushi place in downtown Fort Worth and he's right," said diner Bobby Ramirez.
Part of the restaurant's success the quality and freshness of its ingredients.
"We sourced some fish that I haven't seen in Dallas. It's himidago, a golden eyed snapper that came straight from Japan. I doubt there are many other sushi restaurants in Dallas or Fort Worth that serve that," said General Manager Perry Parrigin, formerly of Nobu.
Delicately proportioned (and punitively priced) dishes, meant for sharing, are served. Five types of tuna -- like brilliant, clear red stained glass -- are on the sashimi and nigriri menu. Eight different types of white fish and four types of salmon are offered and the list of specialty, classic maki rolls and new world sashimi are offered.
Supreme selection makes Blue a sushi haven.
"I can't compare anything around here to this place. I worked at a sushi bar and I go to other sushi bars and this place is number one on my list," said Edward Cervantes.
Despite its modern design and chic concept, there's an aura of fun and comfort. Neither stuffy nor flip-flop casual, it's a cosmopolitan, cool place.
"I've had several guests tell me that it's like a restaurant in New York. LA or South Beach...Chicago…but it belongs in Fort Worth because this is a metropolitan city," said Parrigin.
Even if the thought of putting raw flesh from the deep down your gullet isn't appealing, the bar is worth a try.
A knowledgeable sake sommelier is on hand to distill any diner's limited sake knowledge into a satisfying choice.
Westerners aren't frowned upon for rubbing their chopsticks together or dunking wasabi into the soy sauce.
Blue is the epitomy of chill with a side of red hot fun.
FIND IT:
Blue Sushi Sake Grill
3131 West 7th Street
Fort Worth, Texas 76107
817-332-2583