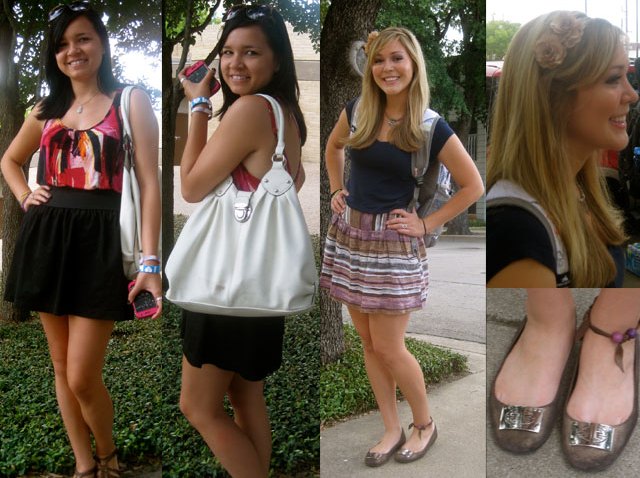 UNT, SMU, and TCU kicked off their fall semesters this week, but who cares about classes starting? Let's talk about what really matters -- who's wearing what.
Some major trends could be seen on all three campuses: preppy stripes, late summer shorts in all lengths, transitional dresses, and boho-inspired everything ruled the first-week looks. (Check out photos of the looks in our gallery below)
UNT girls know just how to do shorts this time of year. The best style spotted was a white, distressed denim pair that cuffed about mid-thigh. Long enough to be perfect for the transition to fall but short enough to be on-trend. The rougher denim was the perfect balance for her Sperry topsiders and striped tee; it kept the look casually edgy.
SMU's style stars were all about dresses and bohemian glam. My favorites were a long, creamy lace dress and a simple, short-sleeved, navy shift dress. Both evoked different eras of Ali McGraw. Plus, both looks stayed campus-ready with flip flops and over-sized bags.
TCU did colors and truly transitional pieces better than the rest. Red -- a huge color for fall -- is already being seen everywhere. Standout pieces included: a red, feather-weight cardi and red, skinny jeans. An Ikat-print skirt with shades of maroon looked perfectly on-trend, too -- wear it now with a tee and flats and, later, with tights and boots. Alicia Atwood, owner of the adorable skirt, said, "I picked it out in two secs and wore it because I hadn't worn it at TCU before; so, it's like, it's new!"
Check back tomorrow for more co-ed style as we breakdown the hot accessories trends on each campus.
Copyright FREEL - NBC Local Media