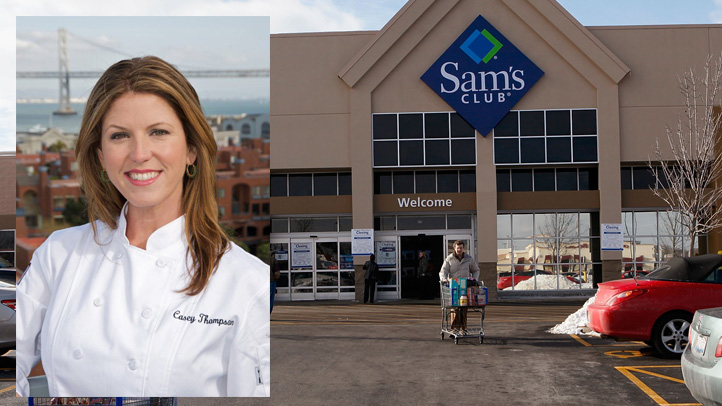 Former Top Chef contestant and current executive chef at the Brownstone in Fort Worth, Casey Thompson has teamed up with Sam's Club, to provide "restaurant-quality, simply delicious mealtime solutions" for members of the popular store. Thompson is one of eight well-known chefs to partner with the popular store.
We interviewed Thompson last year when she made the jump west to open up the Brownstone in Fort Worth.
She is known for using only locally sourced/organic ingredients. Thus, it's safe to say her contributions to the Sam's Club Simply Delicious Chef Brigade partnership will be healthy.

Here's more from the press release:

Sam's Club and eight all-star executive chefs from across the U.S. have partnered to provide restaurant-quality, simply delicious mealtime solutions. Busy families and all on-the-go Americans will appreciate easy, creative chef-inspired solutions for breakfast, lunch snack and dinner at home as new recipes are unveiled every month from August through January, fashioned by the Sam's Club Simply Delicious Chef Brigade partnership.

Starting in mid-August, visit SamsClub.com/Meals and the Sam's Club Facebook Page to indulge in creative mealtime solutions from a member of the Sam's Club Simply Delicious Chef Brigade.

Gain access to recipes and ingredient shopping tips to add flavorful flare to weekday meals. The Chef Brigade will also provide simple tricks-of-the trade and cooking techniques to easily enhance the home cooking experience. The star-studded roster of the Sam's Club Simply Delicious Chef Brigade, who will showcase a variety of cuisines and cooking specialties, includes:

• Molly Hawks (Sacramento, CA) -- As Executive Chef of Hawks, Molly Hawks is known for whipping up clean, classic American fare with a focus on fresh, local ingredients.
• Todd Clore (Las Vegas, NV) -- Famous for his brunch and lauded for his seafood, executive chef Todd Clore excites the palates of diners at Todd's Unique Dining.
• Dale Levitski (Chicago, IL) -- Executive Chef Dale Levitski brings his Top Chef All Star skills and flavor-infused family favorites to the kitchen of his restaurant, Sprout.
• Jan Kelly (Milwaukee, WI) -- Known for integrating fresh seasonal ingredients into her contemporary American cuisine, Executive Chef Jan Kelly inspires diners daily at her restaurant, Meritage.
• Casey Thompson (Dallas, TX) --TV star and Brownstone Executive Chef Casey Thompson incorporates fresh foods and simple twists to create flavorful dishes.

Sam's Club fans in these markets and others can meet their local Chef Brigade member and learn to transform everyday ingredients into simply delicious, restaurant quality meals during in-club demonstrations

"It can be challenging to invent new weekday dishes or to spice up your usual meals, especially when so many Americans are always on the run," said Shawn Baldwin, Senior Vice President of Fresh & Freezer/Cooler at Sam's Club. "Our members -- busy parents and restaurant chefs alike -- depend on Sam's Club for easy to find, quality food options and ingredients that simplify mealtime planning and solutions. Partnering with a brigade of top-notch chefs to unveil simply delicious recipes, Sam's Club can inspire creative cooking and make eating in as exciting as dining out."

Families seeking simply delicious recipes with everyday ingredients can visit SamsClub.com/Meals for seasonal easy-to-make meal ideas, paired with a printer-ready shopping list. To manage leftovers and large quantity items, the Sam's Club series of "7 Ways" recipes gives at-home chefs seven different uses for a core food item to suit every day of the week.

---