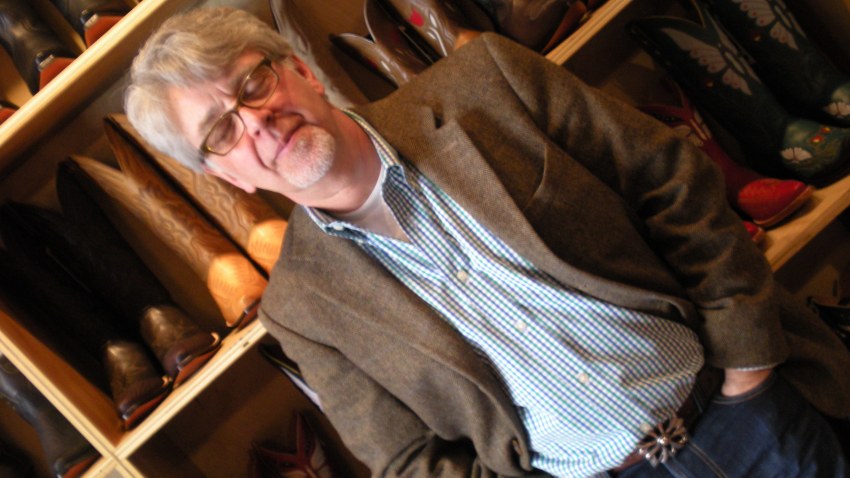 Fort Worth is home to the nation's largest boot maker, Justin Boot Company, and also to M.L. Leddy's and Ponder Boot Company, both well-known for custom made boots.
Now there's Heritage Boot, which opened at 2955 Crockett in the West 7th development a month ago.
"I want to be a bridge between cheap, mass-produced boots and those where people wait a year and spend a grand," owner Jerome Ryan told NBCDFW.
He was careful not to insult the tried and true, but Ryan believes what he sells is truly different than what other boot makers offer.
"My whole perspective is old boots," he said. "I rob from the best. If it was great 50 years ago, it's great now."
But Ryan improves upon that vintage design using today's leathers, mainly from Europe, which he says are better than leathers produced in the past. He uses a lot of Italian calf but is quick to throw in some shark or stingray.
Ryan produces what he describes as "a collectible boot. These are not stamped out." They're made at his factory in Mexico, "but it's not what you think," he explained. "It's all handwork."
Take for instance the most expensive boot he sells. It's a $1,900 custom pair that takes three days of hand stitching. Ryan calls them "Heaven's Gate" but "the devil is in the details" is the description on the boot maker's website.
His lowest priced pair is what he describes as a rough-out boot that goes for $268.
Ryan is a self-described Irish Catholic who grew up in Dublin, Ireland. The tag on his boots features a picture of him from 1957 dressed from head to toe in western wear as if he knew someday he'd live in Texas.
New York was his first stop in the United States. He worked in the garment district designing clothes made from leather. His said his best client was Patricia Field who went on to become the stylist for Sex and the City. It was on to San Francisco and eventually Austin.
His said his best friend at the time was the tour manager for Stevie Ray Vaughan who encouraged him to move to Texas and set up shop. After checking it out, "I got here as fast as I could," he said, and opened Heritage Boot in Austin four years ago.
He also met restaurateur Lou Lambert who introduced him to Fort Worth and helped persuade him to open a second store.
Ryan traces his knack for designing boots back to his days as a teenager growing up in the '60s.
"Actually I came of age , if that's the term, in 1969. I was having platform boots custom made when I was 16 - snake skin, off the wall."
So, how many boots are in his collection? "About 20, but a part-timer who works for me has about a hundred," Ryan said.
And, he adds, there are quite a few celebrities who make Heritage Boot part of their collection, too.
"Oh, Claire Dunes, Dr. Laura, Michael Keaton and some members of ZZ Top," Ryan proudly rattled off.
Check out Ryan's Web sites ... they're very well done and very fun.
http://www.heritageboot.com/
http://www.bootelves.com/