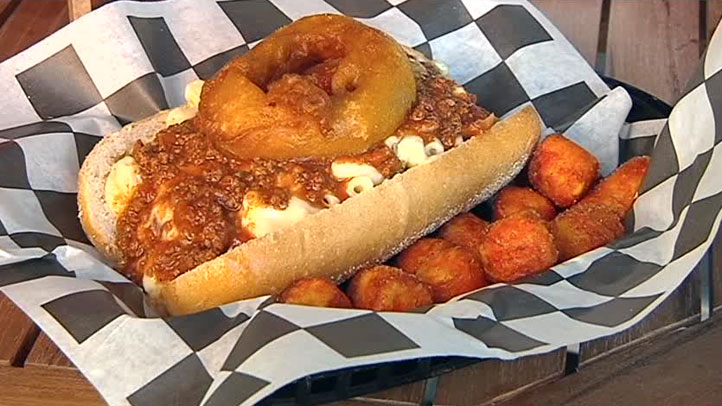 The Stand in Uptown is turning your concession stand favorites into comfort food with a fun twist.
"We wanted to do a place that was comfort foods done fun with different twists on it. All of our menu items are a little bit off the norm. We've taken the traditional fun foods that you might see at concession stands, at stadiums, at the fair and done a different twist on it using the highest quality ingredients to make it a more memorable dining experience," said owner Adam Alfia.
One of those options, the Big Cheese Grilled Cheese Sandwich, looks so gourmet you'd never think it was a riff off comforting fair food.
There's also the Mac Daddy Dog -- a hot dog topped with macaroni and cheese, chili and a jumbo onion ring.
"We wanted to have fun, portable foods. All of our foods are extremely portable. If you want, you can take it, walk down the street and eat whatever it is you ordered without any problem," said Alfia.
But when you dine-in you're never alone, due to the eye-catching Airstream trailer cut in half.
"We wanted to take the food truck idea and bring it inside and we were playing around with the theme, the Airstream trailer came to mind and we said to ourselves wouldn't it be cool if people could order off an airstream, but how do you do that indoors? So, we bought a 1967 Airstream, had it cut in half and then used half of it, as you see behind me, to place your order and to pick up your order and took the other half and made it a salad bar and drink station," said Alfia.
There also the patio outside if you're looking for a second place to enjoy a culinary twist on your concession favorites.
The Stand
2916 McKinney Ave
Dallas, TX 75204
855-557-8263