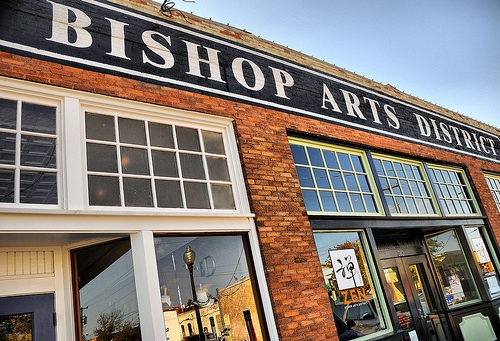 BRAND NEW: Three-week-old ONLi is the newest addition to the Bishop Arts District's impressive roster of shopping and dining destinations. Featuring jewelry and clothing from independent local artists and designers, this boutique is one-of-a-kind. Don't miss flowing tops and dresses by Shaunté McMillan ($35-$136) and men's jeans by Bri Man ($143) made right here in Texas with Texas-grown cotton. Visit ONLi at 408 N. Bishop Ave., Suite 104, 214-943-1352.
A-HA MOMENT: We also love Epiphany in Bishop Arts, a great source for men's and women's apparel, handbags, beauty products and gifts. Love the Costilla Creek bracelets ($25 and up) and cheeky t-shirts for him ($30). Shop online or at 412 N. Bishop Ave., 214-946-4411.
GET THESE BLUES: Speaking of great his and hers selections, Indigo 1745 is a blue jean lover's dream - but that's not all. This shop also features luxury sportswear, shoes, jewelry and more. (In fact, a little birdie told us they just got in some rockin' Imoshion handbags!) Get your shop on at 370 W. 7th St., 214-948-1745.

Copyright FREEL - NBC Local Media