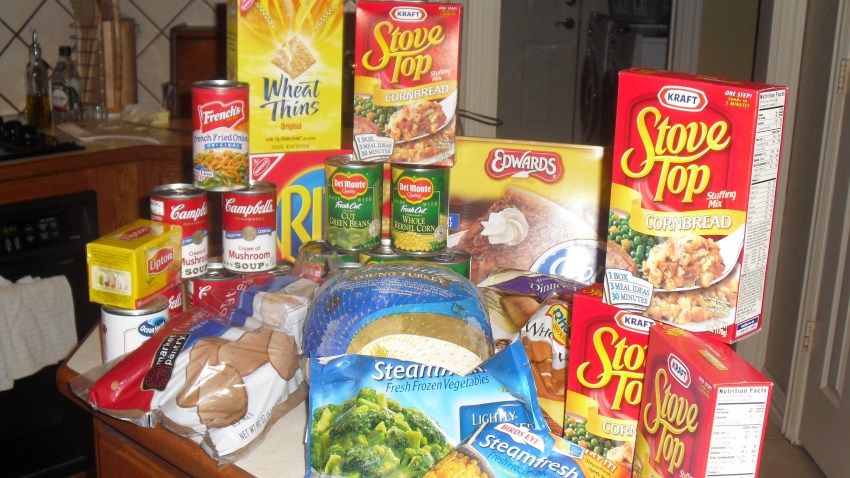 View more news videos at: http://www.nbcdfw.com/video.
Check me out above from the 4P newscast to see how Laura (my fabulous couponing buddy) and I scored a Thanksgiving Dinner to feed 6 - all for under $20!
Here's a look at the deals we scooped up during our visit to Target:
Lipton Tea Bags (16-count) $1.09
- Use the 60¢ coupon from the 11-14 Unilever insert
= 49¢
Nabisco Crackers $2
- Use $1/1 coupon from the 11/14 SS
- AND use the $1/2 Target coupon here
= 50¢ each (when you buy 2)
Edward's Pies $4.79
- FREE tub of Cool Whip with purchase (no coupon necessary)
Del Monte Canned Vegetables 45¢
- Use $1/5 coupon from the 9/19 RP
= 25¢ each (when you buy 5)
French's Fried Onions $1.65
- Use 50¢ printable coupon here
= $1.15
Market Pantry Russet Potatoes (5 lb bag) $1.99
- Use $1 Produce coupon here (may have reached its print limit)
= 99¢
Stove Top Stuffing 79¢
- Use 50¢/2 Target coupon here
- AND use the $1/2 MQ coupon here
= 4¢ each (Buy 4 if you want to use the Butterball coupon!)
Rhodes Warm & Serve Rolls (6-count) $1.99
- Use $1 coupon from 10/24 RP or the printable coupon here
= 99¢
Bird's Eye Frozen Vegetables $1
- Use the Buy One, Get A Free Lightly Sauced/Whole Grains Blends FREE ($1.79 value) from the 10/24 SS
= Pay $1 for both bags!
Butterball Turkey 88¢/lb
- Use $4 off coupon when you buy 4 Heinz Gravy, Pillsbury Crescent Rolls, or Stove Top from the 11/7 SS
= A 10-lb turkey will cost you $4.80 (after coupon)
**There is also a Mail-In-Rebate (MIR) offer here for 5-$1 Butterball coupons!
Campbell's Cream of Mushroom/Chicken Soup 50¢
- Use $1.00/4 printable coupon here
= 25¢ each (when you buy 4)
(The segment featured FREE soup, using the $1.50/3 coupon which is no longer available as of today)
Ocean Spray Cranberry Sauce 95¢
A few reminders before you head out!
Target will accept 1 Manufacturer's coupon AND 1 Target coupon per item.
Printable coupons usually have print limits, so please be aware that those limits may remove a coupon at any time
Many valid coupons "beep" at Target registers. If you encounter this problem, your cashier should be able to manually enter the coupon assuming you purchased the correct product(s). If not, I recommend asking for a manager who has the authority to over-ride the system. This happened multiple times during our shopping trip, but the cashier was able to enter them manually wih no issues (after verifying our purchase was correct).

Happy Couponing & Happy Thanksgiving!